Shopping Cart
Your Cart is Empty
There was an error with PayPal
Click here to try again
Thank you for your business!
You should be receiving an order confirmation from Paypal shortly.
Exit Shopping Cart
The story of Charlie and Kathy Bradford​
Reflections on being an undergraduat​e in my seventies

In July, just one month before my seventy-third birthday, I heard that I'd been awarded my BA in History from Birkbeck, University of London. A 'second-class upper division' (or 2.1) to be precise. So, my student career is over. I can honestly say that I've thoroughly enjoyed the experience and met many really interesting people of all ages who have come from many countries to teach or learn in London. How lucky we are to live so close to such a dynamic, cosmopolitan city.
Of course, the whole learning process was disrupted by Covid. In March 2020, towards the end of my second year, teaching moved online, and stayed that way until the end of my third and final year. I know that the teaching staff moved heaven and earth to make the process of mass online learning as fruitful as they could, but it's just not the same from the student perspective. Online learning is a solitary experience. The main thing that you miss is chatting with fellow students before and after the lecture. From the teachers' perspective, it must be even more frustrating as the teacher has so few body language clues about how his or her message is getting across. In theory, this year's graduates should be attending a graduation ceremony in November, but we don't know whether that too will be forced online. I will be really disappointed if it is.
In the first year of the course, students choose to study history by period, and there are nine periods to choose from, from classical times to the twentieth century, I chose to study three periods of world history covering from 1500 to the present day. My main interest is twentieth-century history, but I also thoroughly enjoyed learning about the early modern world (from 1500 to 1789), which is of course the period when Europeans first encountered other civilisations. Spaghetti Bolognese is a quintessentially European staple, but what would it taste like without pasta - from China - or tomatoes and chilli peppers - from the Americas - or basil - from Africa? What would be left on the plate?
In return for the indigenous Americans introducing us Europeans to tomatoes, peppers, potatoes, maize, and a whole host of other food staples, we gave them horses, which they found quite useful; but we also introduced them to measles and influenza, which may have killed more than forty million of them. If that wasn't enough, we then sent thirteen million Africans to the Americas to be enslaved, but several million of them never arrived on American shores, because the journey was so dangerous. So much modern history is about slavery and genocide that it was a great relief to choose, as one of my second-year modules, a course called 'Being Good in the Modern Age' which is history of altruism and morality. This course began by examining why the Enlightenment philosophers considered kindness and politeness to be important, and went on to cover, inter-alia, the campaign to abolish slavery, the campaigns of the nineteenth century feminists, and, from the twentieth century, the disability rights movement, environmentalism, and the United Nations Universal Declaration of Human Rights. I think that if I had to choose the course that I enjoyed the most, it would be this one.
In the third and final year I wrote my dissertation. Those of you that are already familiar with my blog will know that one of my interests is disability rights, and that I have written the life stories of my parents, both of whom were disabled by polio as young children. So, you won't be surprised at my choice of research project, which was a study of the foundation of the British Polio Fellowship in 1939 and its work between 1939 and 1970. This charity was a self-help movement which in many ways was years ahead of its time; as most charities with this kind of ethos did not emerge until the 1960s. Writing a dissertation during various stages of lockdown is not to be recommended; the library that holds most of the relevant material for a dissertation about polio is the Wellcome Library in Central London, but at no point when I was working on this project was this library open to new readers. Other students will have had similar problems, so I guess we're all in the same boat. Anyway, these are trivial problems compared to what many other people have had to endure during the pandemic. At least it was my final year of university that was disrupted. I feel a lot of sympathy for those eighteen-year-olds who had to endure the stress of the 2020 A-level examinations fiasco, and then go into a university hall of residence to be solely taught online. They deserved better, and it's not the fault of the colleges that things weren't better for them.
The question that I'm asked most often is what next? Am I interested in a master's degree? I have to say that the answer is no. There is no government funding for the over -sixties to go further, and while there are scholarships, I think that there are many younger people who deserve them more than I do. I will carry on writing and start to update my seriously unloved and dated blog more often, starting now. But would I recommend going to Uni to other seventy-somethings. You bet I would!
Every year, an estimated 3,000 children are removed from disabled couples in the UK by Childrens' Services. "Don't Take my Baby", first shown on BBC Three on July 20 2015, dramatises the story of one couple, Tom and Anna, as they set about the task of proving that they can be capable parents.
Tom (Adam Long) is partially sighted, as a result of an unnamed condition that he has inherited from his father, and Anna (Ruth Madeley) has a congenital muscle wasting disease. When she was two her parents were told she had two years to live, and now she still has two years to live. There is a chance that Dani (their baby daughter) could inherit one or both of her parents' conditions.
The play begins with Anna recording a video message for her infant daughter. We're not clear whether she's recording this message because she fears that Dani will be adopted against her parents' wishes, or because she fears that she will die before Dani has laid down any memories of her mother.
Video recordings are a common theme in Jack Thorne's script. We see Anna updating this message, we see Anna and Tom, as well as Tom's parents and Anna's mother being interviewed on camera by social worker Belinda (Wunmi Mosaku); as well as Tom and Anna being filmed by childrens' services while they learn how to care for their baby daughter. The whole process feels very intrusive and big brotherish. We wince when the well-meaning grandparents give honest replies to Belinda's questions that we think may not be entirely helpful to Tom and Anna's case. We share Tom's rage when Belinda calls at all hours of day and night to assess his capabilities as both Dani's and Anna's main carer. We wonder if he will go off the rails.
Anna's mum initially seems very distant from the couple, but we learn why. She was a single mum who brought up a severely disabled daughter who she was told would never survive infancy. When she heard of the pregnancy her first thought was that the act of giving birth would kill Anna.
But Tom doesn't go off the rails, and the couple convince an initially sceptical Belinda that they can, with the right support, nurture and care for their daughter.
My reasons for reviewing this drama is that sixty six years ago I was born the son of two seriously disabled people. My parents, Kathy and Charlie Bradford, had caught the polio virus as children, and I've told their story in my family memoir, "Live Eels and Grand Pianos".
So how is Tom and Anna's story different to Kathy and Charlie's almost seventy years old story? Kathy's mum, just like Anna's mum, was concerned that the act of childbirth could do her harm, she too took time to come to terms with her daughter's pregnancy. The topic of disabled people raising a family was newsworthy then, as it is now. Our family was extraordinary enough to be written about in The People and the Sunday Express.
Looking back, there is never a time in my childhood when there were no social workers around , but they were supportive, never judgemental. Mainly they organised assistance such as the twice weekly visits form the home help service who helped Kathy with housework, t It was a simpler age, and Charlie and Kathy and the young me never had the level of intrusion into their lives that Tom and Anna, and others like them, have today.
I understand why this level of intrusion is necessary but I'm really glad that it wasn't there when I was growing up and earlier, when my parents decided that they wanted to have a family. As Tom says in the drama "other dads with faults get to have a go, don't they?"
In 2006, when I was fifty-seven, I was made redundant. I wanted to find some constructive things to do while I looked for another job, and I heard that Richard was looking for people to read to him.
Richard was married to Ruth and they lived just a few miles from us, in Broxbourne. I had got to know Richard and Ruth through Marilyn, my wife. Both Marilyn and Ruth are artists who had co-operated in joint selling exhibitions from their respective homes. Both families had grown-up daughters of a similar age.
Richard was a biochemist. Originally an academic at Southampton University, he and Ruth had moved to Broxbourne in the 1980s when Richard joined the research team at Merck Sharpe and Dohme. Shortly after Richard joined Merck he was diagnosed with Multiple Sclerosis. The disease attacked Richard's central nervous system particularly aggressively; by the time that I was made redundant Richard had recently had to retire as by now MS had robbed him of the use of his legs and had also affected his eyesight, which is why he was looking for volunteer readers.
For the next six years I visited Richard and Ruth's house almost every Wednesday evening and read with Richard. We read about twenty-five books in that time, including works of fiction, biography, science, economics, politics and current affairs, history and travel. Some of the individual books were chosen by Richard, I suggested others. We read hardbacks, paperbacks, e-books, books we'd bought and books we'd borrowed.
The first book that I read was Richard Dawkins' The Ancestors Tale, a natural choice for a biochemist but not a book that would ever have made its own way on to my reading list without his help. But Dawkins deals with complex biological and genetic concepts in a very accessible, and very literary way. He borrows the structure of Chaucer's Canterbury Tales, structuring the narrative as a pilgrimage, with all modern animals following their own path through history to the origin of life. Humans meet their evolutionary cousins at rendezvous points along the way, the points at which the lineage diverged. I enjoyed The Ancestors Tale a lot, much to my surprise I decided that I liked reading science literature.
Ruth loves cooking and gardening and she's very good at both. She wasn't always at home when I was there, as she's a chorister and often I would be reading with Richard while she was at choir practice. But if she was there she would keep me supplied with delicious homemade cakes or fruit pies that she'd made from her own garden produce.
The next two books that we read were Bill Brysons' The Thunderbolt Kid and A Short History of Nearly Everything. Bryson, we discovered, was already a firm favourite of both of us, and so was Alan Bennett. We shared Bennett's Untold Stories in the autumn of 2008.
I introduced Richard to Paul Torday. The first Torday we read was Salmon Fishing in the Yemen, and we quickly followed that with The Irresistible Inheritance of Wilberforce. Wilberforce is a computer geek who starts, and then sells a multi-million pound software company. After the sale, he no longer has anything to occupy his time until he discovers fine wine. He is now a fully-fledged wine nerd. He has no other interests; wine has absorbed his entire life. Torday tells the story in four sections, each describing a different year, but in reverse chronology. The book begins in the year Wilberforce dies. He staggers around Mayfair, drinking 250 units of alcohol every week, and hallucinating. He spends six grand on two bottles of 1982 Petrus in a Michelin 5 star restaurant and drinks them alone at a table, then gets thrown out when he starts abusing the other diners.
This section really is very funny, in a tragic way. And when you' re reading aloud, your eye is about twenty or words ahead of the words that are coming out of your mouth. This meant that while I was reading about this incident I started to laugh, before Richard knew why I was laughing. But we'd both been laughing together earlier in the Chapter, both of us "got" Torday's sense of humour, and Richard trusted me enough to start laughing a split second before he knew exactly what he was laughing at. Paul Torday didn't let him down though. Richard was a big man, very tall and if his muscles hadn't started to waste because of MS, he would have been very muscular. He had a loud, deep throated laugh which got even louder when my speech finally caught up with my eyes and brain and we both dissolved into even bigger fits of laughter. The only resident of the house who didn't find it funny was the cat, who was asleep on Richard's lap. The cat woke up, gave us both a withering look and went into the next room to get some peace and quiet. This is my favourite memory of Richard, and it's why I say that I read with Richard, not to him.
As well as the twenty-odd books that we finished, there were a few that we gave up on. We'd both thoroughly enjoyed Terry Pratchett's Going Postal. Neither of us had read Pratchett before, and somebody had recommended this book to Richard. We both found it a very funny, very clever satire about global corporations, human rights and the excesses of the market economy. Enthused, we tried to read Pratchett's later novel Unseen Academicals, but neither of us could finish it. I think the problem is that there is such a large cast of characters, and if you're only reading the book once a week, you find it difficult to remember which characters you've met before and which you haven't. Another failure was Mark Haddon's The Red House. This book has a large number of very short chapters and sections of chapters, each written from the point of view of a different character, and I found it too difficult to convey these point of view changes to Richard while reading aloud. I subsequently finished it on my own.
Richard died in January 2013, almost two years ago, after a long series of critical illnesses and hospital stays caused by the progression of MS, and I still miss my visits to him and Ruth. During that six years both his and my elder daughter married, and both of our younger daughters graduated and began their careers. A lot of good things happened in parallel in both of our lives. Sometimes I'm browsing in a bookshop and I pick something up and think "Richard would like that". Then I usually, but not always, put it down again.

This time last year I wrote a number of blog essays on the subject of the Paralympics, the final one expressed three hopes for the future:
Rio must continue what London began. 
The Olympic park legacy must be to provide homes, jobs and recreation for the people of East London.
The right-wing press must stop demonising disabled people.
Last weekend (26 to 28 July) saw the first athletics and para-athletics events in the Olympic Stadium since last summer, as well as the Open East Festival in part of the Olympic Park. On Monday a substantial part of the park was re-opened to the public for the first time. So this is the right time for an update how well we are doing in these three challenges. Let's take them one-by-one:
Rio must continue what London began.
I was referring to the fact that London 2012 was the first time that para-sports had sold out large stadiums, attracted sponsorship and mainstream TV coverage, and was asking whether this could be maintained?
So far, it's looking good. The week before the London Events saw the staging of the International Paralympic Committee's Athletics world championship in Lyon, France. 1300 athletes from 94 countries competed, French mainstream TV (which had been widely criticised for giving inadequate coverage in 2012) gave it 2 hours of coverage each evening; while in the UK Channel 4's More 4 affiliate provided 5 hours of live coverage each day.
GB came sixth in the medal table winning 11 golds, ahead of China but behind, among others, Brazil who won 16 golds. I think it's important that the next host country is doing well at this stage - if they weren't I'd be pessimistic. In Alan Oliveira Brazil has a potential iconic figure who could become the face of both the next Olympics and Paralympics, and that's very encouraging.
The day after the Lyon games closed many of the elite paralympian athletes were facing each other again in the Sainsbury's International Para Challenge in the Sainsbury's Para Challenge in London. This event was once again sold out; over 75,000 people were watching the events in the stadium. Sainsbury's sponsored the event and Channel 4 covered it live.
My party had tickets to the Open East Festival in the Olympic Park (more about that later) so we were thrilled to see things on the big screen. We watched Hannah Cockcroft easily win the T33/T34 100 metres event, David Weir win another victory as he clocked a time of 3:16.40 minutes to win the mile, and the thrilling T43/T44 100 metres race that saw both Alan Oliveira and the USA's Richard Browne break world records, and our own Jonnie Peacock take the 'bronze position.
So I think that the future for participation and coverage of para sporting events still looks very bright.
The Olympic park legacy must be to provide homes, jobs and recreation for the people of East London.
Well the Open East Festival was a definite hit with me on the culture and recreation front. Tickets for each day were only £9.50 and the vent was packed with people of all ages and ethnicities. On Saturday there was a wealth of World Music; headline artists included Vieux Farka Touré - son of the late, great Malian guitarist Ali Farka Touré - as well as Malian superstars Amadou & Mariam. We went on Sunday and the highlights for me were the acrobats Una Via Aerial Circus, a walkabout by Joey, the horse from the National Theatre's War Horse play, and The brilliant Graeae Theatre Company's staging of Ted Hughes's "Iron Man" Here are some of the pictures we took: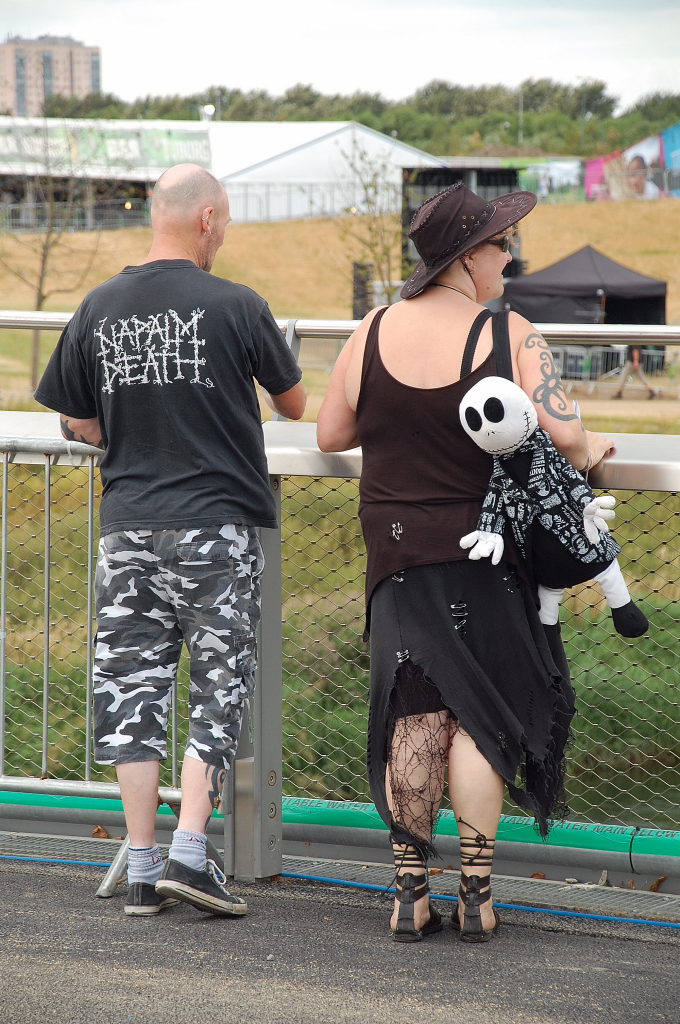 Some of the people we saw at the Festival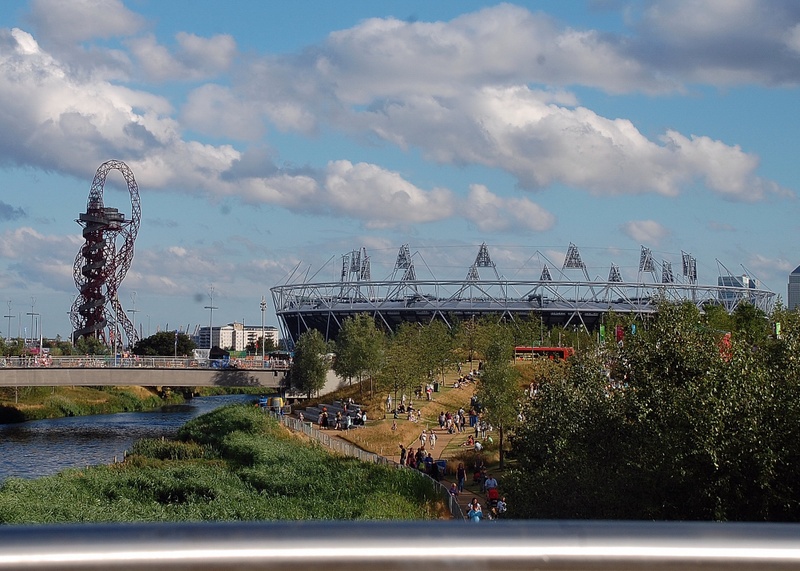 Iconic view of the Stadium from the North Bridge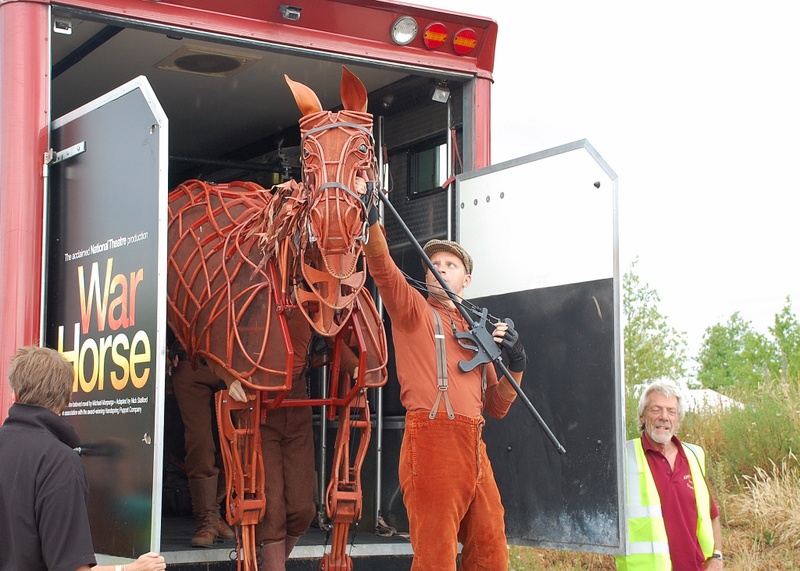 Joey from "War Horse"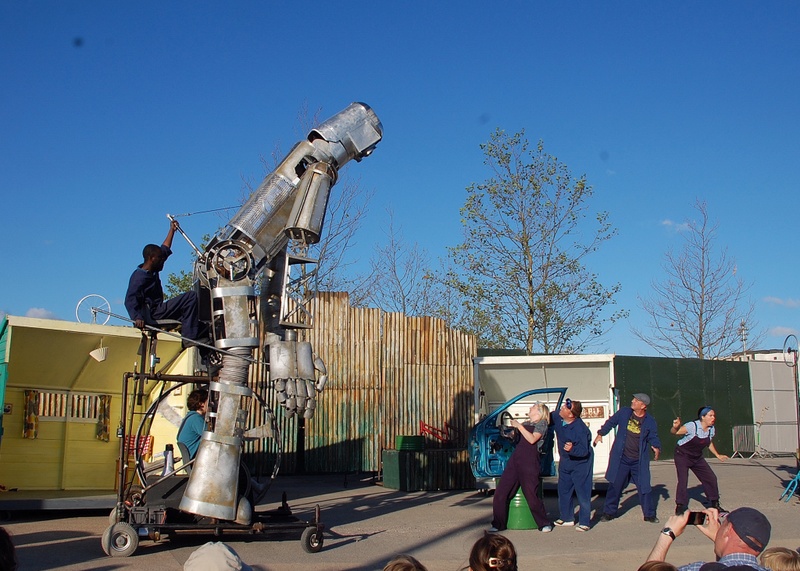 Graeae's "Iron Man"
There's a much longer review of the Festival here - courtesy of the "Daily Telegraph."
On the jobs front, BT are converting the old press centre into TV studios, and as far as homes are concerned apartments in the former Olympic Village will be offered for sale this Autumn. Will these flats be affordable for local people? Prices haven't been announced yet but I have to say that I doubt it. I'll report back when I get more information.
The right-wing press must stop demonising disabled people.
Well, This was always going to be a tall order. Up to half a million people with disabilities are likely to lose financial support as a result of the replacement of Disability Living Allowance (DLA) with Personal Independence Payments (PIP). Dame Tanni Grey-Thompson, writing in the Daily Telegraph, stated that these people are " now at risk of being unable to get the social care support they need to do the basic things in life. What is at stake here is the independence of hundreds of thousands of disabled people." You can read Tanni's full article here.
So how do I score progress on a scale of 1-3?
My current score is 2.75 - I think that para sporting events will continue to be high profile vents, I'm encouraged about the future of the Olympic park site but concerned about the cost of housing, and desperately concerned about the place of people with disabilities in British society as a whole.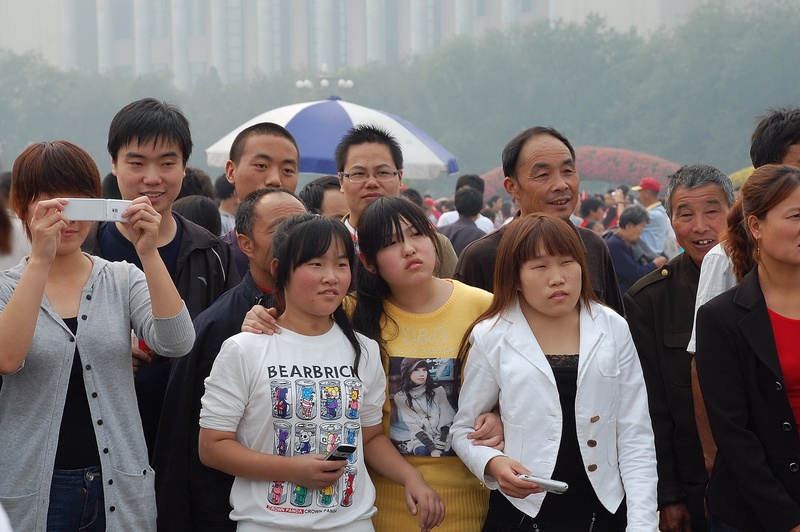 On October 1st 2010 I was in Tiananmen Square, Beijing. There were twenty-three of us, all British tourists, and we were accompanied by our tour manager, a young man from Shanghai, and a local guide who was in her late thirties. Our tour party happened to be in the square on China National Day; the first day of a week long holiday that celebrates the Communist victory in the civil war of 1945-1949.
According to our guide, over 300 million Chinese people make journeys in that week. That's more than half the population of the European Union. Some people will take time off from their factory jobs, lock up their new skyscraper apartments in sprawling cities such as Shanghai and Beijing and return to the rural villages where they grew up. Back home they will be re-united with their parents, and very often the children that they've left behind. Other people will travel from far-flung cities and villages to celebrate their national identity right here in the square. Estimates of the number of people in the square this year range from half a million to a million.
Beijing has sixteen million citizens living in an area the size of Belgium. The city is built on a grid-iron pattern with all roads running either strictly north-south or strictly east-west. And Tiananmen Square is the one square kilometre rectangular bulls-eye in the very centre of the city. It wasn't always there. Prior to 1949 it was a sprawling mass of homes, offices and workshops that was demolished by Chairman Mao in order to create a theatrical space where the communist victory could be celebrated. To the north is the Tiananmen Gate leading to the Forbidden City where the Emperor used to live. Above the Gate is a huge portrait of Chairman Mao. To the east is the Hall of the People, to the south is Mao's mausoleum and to the West lays the Monument to the People's Heroes.
Some of the visitors have come from rural villages. They've brought picnics with them and squat down in any free space they can find to eat pot noodles. The whole crowd is making its way north, so that each individual can be photographed with Mao's portrait in the background. Considering how large the crowd is, it's remarkably quiet. In the background, we can hear piped patriotic music being broadcast, but the volume is low. The picnickers are very careful to pick up their own litter and carry it away with them, and there are no particularly strong smells that I can recall.
If Katie Melua's song is correct and there are nine million bicycles in Beijing, then there are even more cameras. Practically everybody carries a compact digital camera. Some people have never seen Europeans before. Our party attracts attention. As we move slowly towards Chairman Mao people clamour for us to stop, so that they can have their photographs taken with people who look like westerners they've seen on TV. They're fascinated by our blue eyes, big noses and above all by our height. We oblige the photographers willingly, but we have little choice. The crowd is moving so slowly that we couldn't escape their attention if we wanted to.
I can't help noticing how young most of the people are. There are a few old people dressed in the drab uniforms of the Mao years, but at least three-quarters of the crowd must be under thirty. Whenever these young people pose for a photograph they adopt highly staged poses; arms outstretched, exaggerated smiles, silly expressions, pointed fingers. Some of the younger children are in ethnic or regional dress, and many others are dressed in a cacophony of styles and colours – stripes, checks, plaids, browns, blues and pinks. A lot of the teenage boys are androgynous with dyed bouffant hair. Their girlfriends are dressed in a plethora of (probably fake) designer labels such as D&G, Burberry and Abercrombie and Fitch.
Two thoughts occur to me. The first is that I have never been a part of such a large crowd before, and probably will never be again. I am just one in a million. The second is that I've heard somewhere about China's 'one child policy'. Does this mean that hardly any of these young people have brothers or sisters? It seems incomprehensible, far-fetched.
I'm intrigued, because I was an only child myself, and have always felt something of an exception. According to popular myth in the West, only children are spoiled, self-centred and lonely. While I don't agree with these stereotypes I wonder what the effect is on a society if all the children of a given generation are singletons?
I ask our tour manager about the one child policy. He corrects me. China has a 'family planning policy', not a 'one child policy'. This means that the state does indeed restrict the number of children that married urban couples can have to one, although it allows exemptions for some rural couples, ethnic minorities, couples who have re-married after divorces, or parents without any siblings themselves. It doesn't apply in Tibet. Couples who breach the policy are fined, and may also be sacked from their jobs.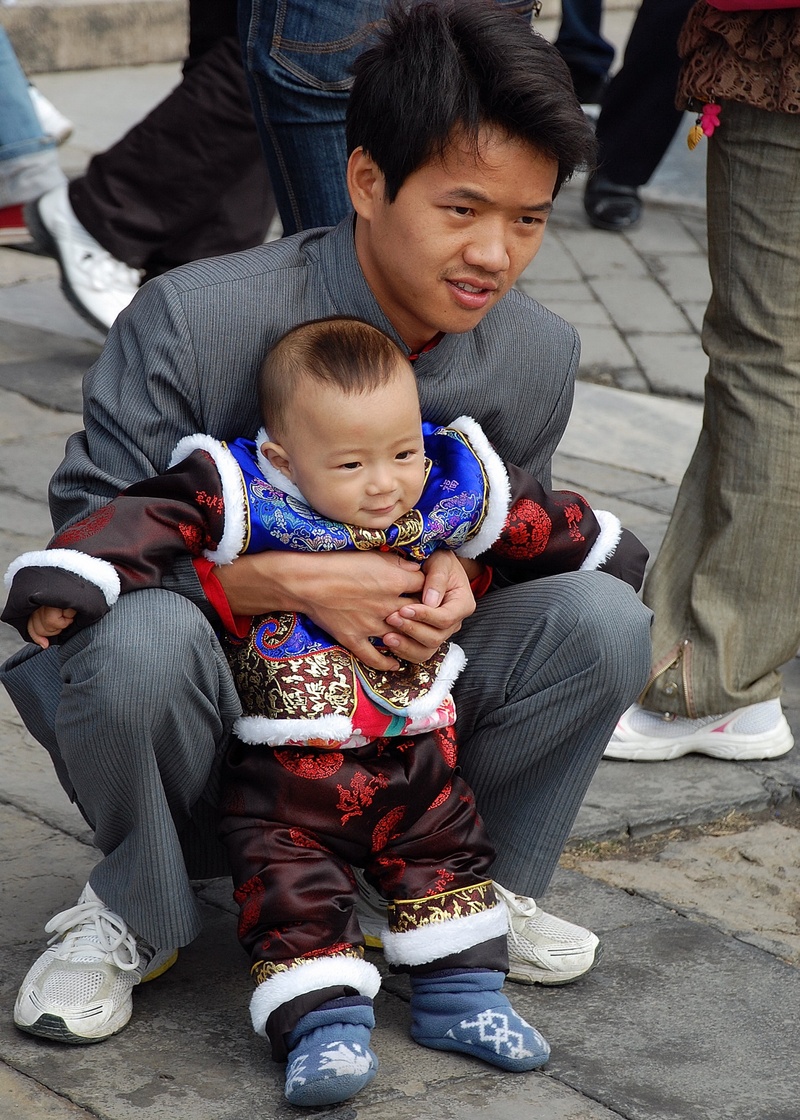 He tells me that parents who have given birth to handicapped children may try again – but only after four years. My parents were seriously disabled from their early childhood as a result of the Polio virus, and I've always felt strongly about how people with disabilities are treated by society, so this disturbs and confuses me. What constitutes a disability? Does the child have to be born with it? What happens if they contract it later? Why four years and not three or five? What is the official value of a person with a disability?
I don't know what to make of any of this. On one hand I think it's an appalling, sinister intrusion into people's private lives that may have all sorts of unintended consequences; but on the other hand it may very well be true that this policy has contributed to better healthcare and greater prosperity for many millions. Since the policy was introduced in 1979, China's population has increased by over 300 million, and we'll never know what would have happened without it.
The policy was of course introduced as a response to famine. Between 1958 and 1961 the Great Leap Forward Famine killed about thirty million people. In this period Mao Zedong reorganized Chinese agriculture on a collective basis. Private farming was prohibited. Those engaged in it were labeled as counter revolutionaries and persecuted. Millions of peasants were ordered away from agricultural work to join the industrial workforce. Rationing was introduced, in some cases leaving rural Chinese with less than of 250 grams of grain per day. It took years to recover. By 1970, food production was still only 70% of the 1958 level.
Mao blamed sparrows for eating the grain, and official policy was to eliminate these enemies of the people. Peasants were ordered to bang pots and pans and run around to make the sparrows fly away in fear. Nests were torn down. Eggs were broken. Chicks were killed.
Despite Mao's share of the responsibility for the famine he is still revered, though not considered infallible by any of the guides we met. Our tour manager said that in his opinion the Cultural Revolution was the greatest disaster to hit China in modern times. But Mao wasn't wholly responsible. Mao was a great hero who was misled in his later years when his faculties were no longer what they were. He recommended us to read Jung Chang's 'Wild Swans' if we wanted to understand modern China. I asked him whether it was available in Chinese. No, it isn't. He'd read it in English. It was given to him by one of his customers. Most people have never heard of this book and couldn't get hold of a copy if they had.
We're now making our way through the Tiananmen Gate to the Forbidden City under the Chairman's watchful gaze. I can't help thinking of the time, twenty one years ago that I first heard the name of this place. I was watching the now iconic TV images of a solitary student carrying two shopping bags who had stopped a line of tanks that had been sent to crush a demonstration. Our guide has been telling us what a happy occasion today is, how thrilled everybody is to be in the square, and what we have seen confirms that. So I ask her whether she's ever seen this famous, more sinister image? Is it ever seen in China?
She tells me that she has seen it, and that she was one of the students in the square that day. She adds "Of course, we didn't really know what we were protesting about." At that point the whole crowd has to move to the right to get through the security turnstiles of the Forbidden City, our guide has to count heads and make sure that all her party are following her, and I didn't get to continue this conversation.
*****
I originally wrote the above piece a few days after we left Beijing. at the time I was prepared to give China the benefit of the doubt - the "family planning policy MAY have contributed to better healthcare and greater prosperity for many millions.
But earlier this month, Penguin published "The Dark Road" by Ma Jian, translated by Flora Drew. This is a very bleak, profound and disturbing fictional polemic against the one-child policy and a repressive, brutal and corrupt bureaucracy. Ma Jian is a London-based Chinese dissident and writer who spent several months posing as a vagrant and a journalist researching what happens to Chinese peasants who "go on the run" to avoid the consequences of the one child policy.
Meili, a simple peasant girl married Kongzi, a village school teacher when she was just sixteen. they have a daughter, Nanaan, who is two years old at the beginning of the story. Because Kongzi is a direct descendant of Confucius, it's very important to him to have a male heir. He's determined to impregnate Meili enough times to make this happen, despite any objections she may have, and more significantly, despite the attentions of the Fertility Police.
To escape the persecution of the state fertility agencies, The family flee their home and live on the margins of society. They eventually make their home in Heaven Township, a polluted dystopian community where unwanted electronic equipment is sent from Europe to be recycled. Virtually all of the recyclers are illegal immigrants in their own country, many of them, like Meili and Kongzi are fleeing from the Fertility Police.
Meili becomes the victim of forced abortion, imprisonment and rape. The novel hints at still more darker forces such as the adulteration if infant feeding powders with toxic chemicals, the selling of unwanted children to foreigners, the deliberate maiming of healthy girl babies so that they will attract more sympathy as beggars, and cannibalism. Ma Jian is highly critical of Kongzi, who is determined to produce a male heir despite the consequences to his wife and daughter, but even more critical of the brutal, corrupt and repressive Chinese state.
Near the beginning of the book, Kongzi remarks "If a panda gets pregnant the while nation celebrates, but if woman gets pregnant she's treated like a criminal." Nearer to the end, Meili observes "Men control our vaginas; the state controls our wombs." This book is certainly not for the faint-hearted, and had caused me to think again about China.
Last night BBC1 broadcast the story of Laurence and Adele Clark as their second son Jamie was born. Both Laurence and Adele have Cerebral Palsy. One of the early scenes shows them taking their older son Tom, aged six to the swing park.
Being taken to the swing park as a six year old by two parents in wheelchairs is one of my earliest memories too. But that was 58 years ago, so I wanted to see what's changed in just over half a century. The wheelchairs are far more high-tech and the playground equipment is much more brightly coloured, but it's still newsworthy when two people with disabilities decide to have kids. There was no TV to speak of in 1948 so my birth was only reported in "The People" and the "Sunday Express".
Laurence was in the operating theatre when Adele gave birth to Jamie, but the presenceof any dad - let alone a dad in a wheelchair - in that room was unthinkable then. But just as Laurence was about to go in, a very embarrassed (male) midwife asked him if he would mind transferring from his power wheelchair into a hospital wheelchair – "it would be better for us". I can't imagine the reasoning behind this; Laurence very politely and firmly declined this request and the midwife's body language showed that he was only going through the motions at somebody else's bidding. He was clearly relieved when Laurence stood his ground.
One scene showed Adele talking to Tom about the imminent arrival of his new brother, and it was very interesting to see how he understood and accepted his parents'disabilities in such a matter of fact manner. I can't remember having these discussions with Kathy and Charlie at six, but I do remember that as a nine year old I accepted my parents' disabilities in just the same way. It would be very interesting to see a follow up program in a few years time and talk to Tom again.
I felt for the two grandmothers who featured prominently in the programme. Their childrens'CP was of course the result of difficult births, so it must have been very stressful for them to wait for Jamie's arrival, and the relief they must have felt when a healthy baby arrived was obvious.
I couldn't help contrasting Laurence's and Charlie's working lives. They couldn't be more different as Laurence is a stand-up (or should it be sit-down?) comedian, whereas Charlie worked on an assembly line. Charlie's work was hard physical labour, but his hours of work and his level of income were far more predictable than Laurence's. One of the most moving parts of the programme was when Laurence had to leave his young family to spend a month at the Edinburgh fringe. I was about to write that there were no opportunities for people with disabilities in the performing arts in the 1950s but then I remembered that one of the most popular entertainers of the time was Michael Flanders, a polio survivor like my mum and dad who performed in his wheelchair.
Towards the end of the programme Laurence and Adele mention that there are still people around who don't think that parents with their degrees of disability should have children. Nothing new there then.Adele pointed out that her children will always get the love and attention they deserve. She didn't think that her life should be viewed as "triumph over adversity"; all she was doing was leading a normal life. These are sentiments that my mum and dad would have agreed with completely.
In this post I'm trying to decide whether society has become more hateful of people with disabilities over the years, or whether it's just the nature of the discrimination and abuse that has changed.
"Live Eels and Grand Pianos" tells the story of Kathy and Charlie Bradford from before World War I to the 1980s. Most of the people that my parents got to know (neighbours,workmates, officialdom, etc) could not have been more supportive of our family.Sometimes Charlie and Kathy depended on the kindness of strangers, as this excerpt from the book (it's describing the 1950s and 1960s) explains:
"Sometimes Charlie would fall over in the house or garden and couldn't get up. By the time I was eleven, I could get him up if I was there, but there were many occasions when I wasn't. When that happened Kathy would wait outside the front door for an able-bodied male to come past, and ask him if he would come into her house to pick her husband up. As soon as I left school and earned money I paid for a phone to be connected."
We lived in Edmonton, North London, about 400 yards from the Tottenham Hotspur stadium, just on the edge of the area that was torched by riots last summer; and I dread to think what the result of inviting a stranger into the family home under those circumstances might be today. But of course it wouldn't be necessary, as a family like our swould have "emergency button" access to care services and would be able toafford a telephone.
However, not everybody was sympathetic or supportive of the many thousands of people who were very visibly disabled by Polio at the time. You can read the first chapter of "Live Eels andGrand Pianos" here to see when and how I first became aware of this at the age of ten.
Two further extracts from the book give an idea of social attitudes to disability in the 1950s:
"In 1950 the Infantile Paralysis Fellowship published a fund raising brochure, and our family featured on page three. The national press picked upon this story, and 'The People' newspaper printed an article about us in November. I would not see this article for sixty years, as nobody kept a copy of it. This publicity had some unwelcome and unexpected consequences. The old man who sold the Evening News at the bottom of our street read it, and not only verbally abused Charlie for bringing up a child that would grow up crippled, but also spat at him."
This second extract describes the experiences of Fred and Joyce Prudence, friends of my parents:
"Fred was married to Joyce, who also had Polio, and they had adopted a girl of about ten; a relative of Joyce's. Fred worked for himself, as a watch repairer, from home. In 1959 Fred and Joyce decided to buy a house in Palmers Green. They needed a mortgage, which was granted. While their house purchase was going through, some neighbours got up a petition to the building society.They didn't want cripples living in their street.  The building society sent the protesters away.Fred and Joyce bought their house."
So, negative attitudes have always existed, and in the time that I wrote about they took different forms, such as low-level bullying, as well as organised campaigns to deprive people with disabilities of their civil rights. But they existed alongside positive attitudes,in particular the positive attitudes of local authority social services departments, politicians and the popular press. I left home at the age of twenty-one in 1969, and the following year saw the enactment of the Chronically Sick and Disabled Persons Act, the first such act in the world to recognise and give rights to people with disabilities.
The Act gave people with disabilities the right to equal access to recreational and educational facilities. It obliged local authorities to provide telephones to people who were isolated as a result of disabilities, and in the first decade Post Office Engineering Union members installed 70,000 telephone lines in their spare time for a nominal charge of 2p per fitting which was then donated to disability charities.
The press was overwhelmingly positive. My family was written about by the National Press several times,because we were so unusual, but they wrote positive things about us. Contrast that with the disgusting,abusive and inaccurate coverage given to the subject by the Murdoch press today.
Three things are fundamentally different today to the times that I wrote about in "Live Eels" Firstly we havea government that is trying to renege on forty years of enlightened legislation,and is prepared to blame these changes on "scroungers"; secondly we have a rabid right-wing national press that seeks to whip up hatred about anybody (refugees, people with disabilities, to name but a few) who looks different and blame them for the economic recession.Thirdly we have a breakdown in large aspects of civil society that has led to riots in our cities, as well as examples of prolonged harassment and cruelty to those who the perpetrators think cannot fight back.
Please let me have your views. Feel  free to comment.
This is the "People" article from 1950 that cased Charlie to be verbally abused: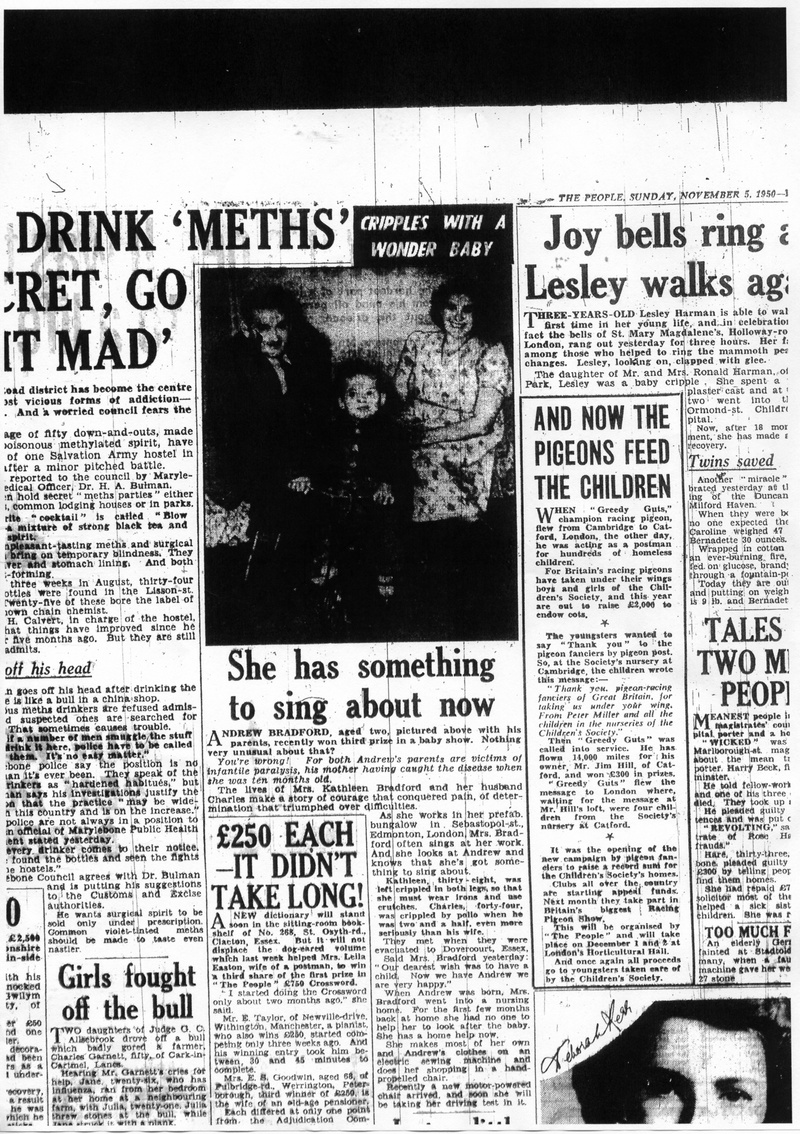 Do the proposed changes to Disabled LivingAllowance send us back to the 1930s?




Readers of "Live Eels and Grand Pianos" will be familiar with the stories of Kathy and Charlie Bradford,and the financial struggles that they had to finance the cost of their disabilities. Here are two extracts about their lives in the 1930s. The first extract is about Charlie:




"Charlie was an activist for the rights of the disabled as earlyas the 1930s. He was asked by the Shaftesbury Society (a Christian charity) to helpset up a 'cripple parlour' - a kind of self help group – in Edmonton. The group wrote letters to MPs about the financial consequences of disability. He (and countless others like him) couldn't afford to buy their crutches, leg irons and wheelchairs, so the society gave them lists of wealthy individuals they could write to, to ask them for financial support. In other words he had to write begging letters."




And this extract is about Kathy




"Kathy was a talented needlewoman. She left school at fourteen and worked as a tailoress until she married. Her first job lasted one year, as did her second job and then her third.  When she was sacked for the third time she asked her employer why she was being dismissed, and she was told that the boss had found out that due to her disability, the employer would have to pay extra national insurance contributions, backdated to the day that she started.




National Insurance in the 1930s was a payment made by the employer to the government to provide compensation for its employees in the event of an industrial injury, and no doubt some government actuary had decided that disabled workers were a higher risk and had to pay higher contributions. Kathy's employer said that he couldn't afford to pay that. Somebody else could do the job more cheaply. She had to go. She therefore came to an arrangement that she would reimburse the firm for the extra national insurance stamps . She did this for ten years until the start of World War II, and she recorded all the payments she made in a series of notebooks. In 1938 she attended one of the first meetings of what became the British Polio Fellowship, a self-help organisation for people with her disability. A few years later the Polio Fellowship submitted these notebooks as evidence to the Beveridge Commission, and the national insurance rules werechanged."




Kathy andCharlie always worked, but the extent of their disabilities prevented them fromearning very much money. It wasn't until the Chronically Sick and HandicappedPersons Act was passed in 1970 ( by which time Charlie was 64 and Kathy 58) thatthey received any form of state benefit that recognised that because of theirdisabilities they had higher expenses than able-bodied people in similar situations.This meant that they could afford a telephone for the first time.




When they first applied for Attendance Allowances (the forerunner of Disability Living Allowance) they mentioned that they needed a telephone and why they needed it. They were first of all turned down on the basis that Claremont Street (where they lived) "is not an isolated place". They appealed and in the appeal they mentioned that Charlie often fell down in the house and couldn't get up without help. Because they didn't have a phone, Kathy often had to stand at thedoorstep to ask passers-by to come into the house to pick her husband up. They won the appeal and the Attendance Allowance made an immeasurable difference to the quality of their lives.




If theproposed cuts to DLA go ahead then there is a grave danger that we will return to those times. Churches and charities will be compiling lists of "benefactors"to whom "the needy" can write to for support, and thousands of people who currently lead active and fulfilled lives will become isolated. Some of the changes may be counter-productive, as many people who use DLA funding to payfor transport to work and assistance at work will find themselves unable towork, and claim other benefits instead.


 

Sunday 8 January 2012

Professor Stephen Hawking is seventy today, defying all the medical odds. His achievements are remarkable and his story is inspirational. Here is the BBC tribute to a truly great man.


0

/