Shopping Cart
Your Cart is Empty
There was an error with PayPal
Click here to try again
Thank you for your business!
You should be receiving an order confirmation from Paypal shortly.
Exit Shopping Cart
The story of Charlie and Kathy Bradford​
Reflections on being an undergraduat​e in my seventies

In July, just one month before my seventy-third birthday, I heard that I'd been awarded my BA in History from Birkbeck, University of London. A 'second-class upper division' (or 2.1) to be precise. So, my student career is over. I can honestly say that I've thoroughly enjoyed the experience and met many really interesting people of all ages who have come from many countries to teach or learn in London. How lucky we are to live so close to such a dynamic, cosmopolitan city.
Of course, the whole learning process was disrupted by Covid. In March 2020, towards the end of my second year, teaching moved online, and stayed that way until the end of my third and final year. I know that the teaching staff moved heaven and earth to make the process of mass online learning as fruitful as they could, but it's just not the same from the student perspective. Online learning is a solitary experience. The main thing that you miss is chatting with fellow students before and after the lecture. From the teachers' perspective, it must be even more frustrating as the teacher has so few body language clues about how his or her message is getting across. In theory, this year's graduates should be attending a graduation ceremony in November, but we don't know whether that too will be forced online. I will be really disappointed if it is.
In the first year of the course, students choose to study history by period, and there are nine periods to choose from, from classical times to the twentieth century, I chose to study three periods of world history covering from 1500 to the present day. My main interest is twentieth-century history, but I also thoroughly enjoyed learning about the early modern world (from 1500 to 1789), which is of course the period when Europeans first encountered other civilisations. Spaghetti Bolognese is a quintessentially European staple, but what would it taste like without pasta - from China - or tomatoes and chilli peppers - from the Americas - or basil - from Africa? What would be left on the plate?
In return for the indigenous Americans introducing us Europeans to tomatoes, peppers, potatoes, maize, and a whole host of other food staples, we gave them horses, which they found quite useful; but we also introduced them to measles and influenza, which may have killed more than forty million of them. If that wasn't enough, we then sent thirteen million Africans to the Americas to be enslaved, but several million of them never arrived on American shores, because the journey was so dangerous. So much modern history is about slavery and genocide that it was a great relief to choose, as one of my second-year modules, a course called 'Being Good in the Modern Age' which is history of altruism and morality. This course began by examining why the Enlightenment philosophers considered kindness and politeness to be important, and went on to cover, inter-alia, the campaign to abolish slavery, the campaigns of the nineteenth century feminists, and, from the twentieth century, the disability rights movement, environmentalism, and the United Nations Universal Declaration of Human Rights. I think that if I had to choose the course that I enjoyed the most, it would be this one.
In the third and final year I wrote my dissertation. Those of you that are already familiar with my blog will know that one of my interests is disability rights, and that I have written the life stories of my parents, both of whom were disabled by polio as young children. So, you won't be surprised at my choice of research project, which was a study of the foundation of the British Polio Fellowship in 1939 and its work between 1939 and 1970. This charity was a self-help movement which in many ways was years ahead of its time; as most charities with this kind of ethos did not emerge until the 1960s. Writing a dissertation during various stages of lockdown is not to be recommended; the library that holds most of the relevant material for a dissertation about polio is the Wellcome Library in Central London, but at no point when I was working on this project was this library open to new readers. Other students will have had similar problems, so I guess we're all in the same boat. Anyway, these are trivial problems compared to what many other people have had to endure during the pandemic. At least it was my final year of university that was disrupted. I feel a lot of sympathy for those eighteen-year-olds who had to endure the stress of the 2020 A-level examinations fiasco, and then go into a university hall of residence to be solely taught online. They deserved better, and it's not the fault of the colleges that things weren't better for them.
The question that I'm asked most often is what next? Am I interested in a master's degree? I have to say that the answer is no. There is no government funding for the over -sixties to go further, and while there are scholarships, I think that there are many younger people who deserve them more than I do. I will carry on writing and start to update my seriously unloved and dated blog more often, starting now. But would I recommend going to Uni to other seventy-somethings. You bet I would!
A few weeks after I published 'Live Eels and Grand Pianos' I had an e-mail from Barry North, the British Polio Fellowship'sarchivist. He'd just been given a box of old newspaper cuttings from the 1950s and one of them was a picture of my family, taken when I was four. The headline is 'They dared to seek happiness – and won.'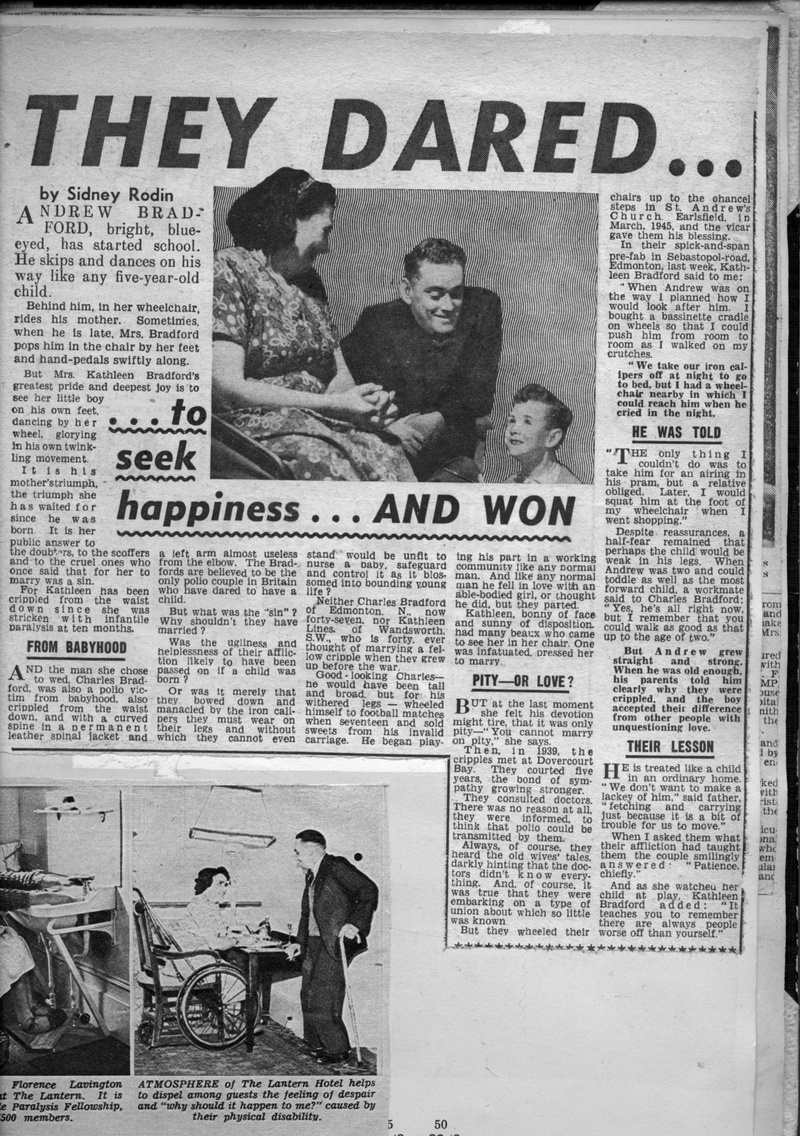 It wasn't clear where this cutting was from or exactly when it was published, as whoever clipped it over half a century ago hadn't clipped the paper's masthead. But the writer's name was Sidney Rodin, and it says that Charlie is forty seven and Kathy is forty.
I googled Sidney Rodin. There is only one reference to him, and it seems he wrote for the Sunday Express. If Charlie was forty-seven and Kathy was forty, then the article must have been written in the spring of 1953.
How I wish I'd seen this article before 'Live Eels' was published!  I have read many articles about my Mum and Dad, but this is quite simply the most sympathetic, succinct account of Kathy's and Charlie's decision to have a family that I have seen.
Sidney Rodin describes the four year-old me as Kathy's 'public answer to the doubters, to the scoffersand the cruel ones who said that for her to marry was a sin.' He says that many people believed that Polio would be passed on to children, and that many would say that Kathy and Charlie would be 'Unfit to nurse a baby, safeguard and control it as it blossomed into bounding young life.' I had never realised that they had consulted doctors to get re-assurance that Polio was not in any way hereditary; but on reflection it's obvious that they would have done that.
I also found out how Kathy had planned how she would look after a young baby. She is quoted as saying that she 'bought a bassinette cradle on wheels so that I could push him from room to room as I walked on my crutches. We take our iron calipers off a night but I kept a wheelchair by the bed so that could reach him when he cried in the night.'
A recurring theme in 'Live Eels' is the prejudice of those people who insisted that Kathy and Charlie's disability would be passed on, and I have recounted my memories about this subject. But Sidney Rodin tells me an anecdote that I never remembered hearing:
"When Andrew was two and could toddle as well as the most forward child, a workmate said to Charles Bradford 'Yes, he's alright now but I could remember that you could walk as good as that up to the age of two.' "
How I wish I had seen this article before publication, I would have mentioned Kathy's planning for how she would look after a baby, and I would have quoted what Charlie's workmate said.
I am moved by the writing that I wonder why there is so little information about the author on the web. The only available article by Rodin is from 1950. It's an interview with Mrs Dorothy O'Grady, formerly a seaside bed and breakfast proprietor from Sandown, Isle of Wight. Mrs O'Grady, then aged fifty-three had just been released from Aylesbury jail where she had served nine years for spying for Germany during World War II.She had originally been sentenced to death, but this was later commuted to fourteen years imprisonment.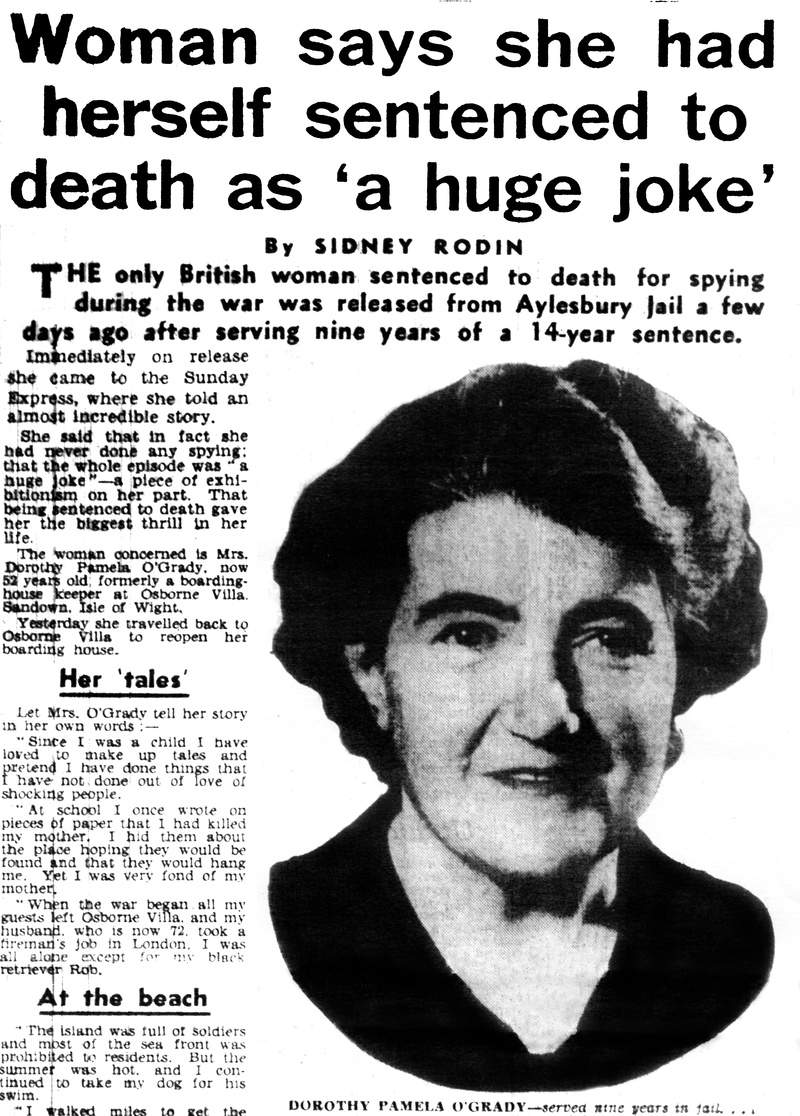 Mrs O'Grady seems to be some kind of female Walter Mitty, a deeply troubled fantasist and an attention seeker. It's highly unlikely that she was ever a spy. An orphan, she was brought up in London by adoptive parents. Her adoptive mother died when she was ten and her father re-married. Dorothy claimed, in letters sent from the death cell, that her step-mother physically abused her. As a teenager she left notes around confessing to her Mother's murder, even though the fact that her mother died a natural death is not disputed. As a young woman she had been convicted of theft, prostitution - which she always denied - and forgery, but by1940 she was forty-four years old, apparently happily married to a man twenty years her senior and running a respectable and successful B&B.




Until one evening when she decided to stuff her pockets with small swastika flags – taken from a freely available 'Daily Express' war map kit – together with a pair of nail scissors; and take her dog for a walk along a beach that was closed to the public because it was being used for military exercises. She was originally arrested for a minor breach of wartime regulations, the penalty would probably have been only a fine or a few days in jail. But instead of attending court she chose to go on the run, prompting a new investigation into what she was doing on the beach. She said that the reason she went on the run was to prevent her husband finding out about her prostitution convictions. During the new investigation it was found that some wires had been cut on the beach, and the prosecution evidence said that the nail scissors could have made the cut. She was found guilty of espionage, and sentenced to death. In her interview with Rodin, she said that receiving the sentence was a 'huge joke' and that this was the most thrilling thing that had ever happened to her. She recounted to Rodin:




 "All my life I have never been anything, Ihave always been insignificant. I never had a close friend, not even at school.I felt tremendously bucked when I saw that they thought me clever enough to be a spy. It made me feel somebody"




She had been looking forward to being hanged as she 'wanted to know what it felt like.' TheCourt of Appeal reversed the espionage verdict, and sentenced her to fourteen years for a number of lesser offences including sabotage.




Mrs O'Grady would be an interesting subject for a TV drama. I canimagine Victoria Wood or Julie Walters in the role of this deeply disturbed woman. I've written more about Dorothy, and updates will follow on this blog. Sidney Rodin must have had an interesting career. I only know of two women who he interviewed, but the lives of Kathy Bradford and Dorothy O'Grady could not have been more different. My researches into the story of Dorothy found very little information about this sympathetic interviewer, so I asked the British Library if they could find out any more information. I was very disappointed to receive this information from the library:




"I have traced a brief report of Sidney Rodin's death in "TheTimes" of 7 June 1954, page 8: "Mr. Sidney Rodin, a special feature writer on the Sunday Pictorial and formerly a feature writer on the SundayExpress, died suddenly at his home at Banstead, Surrey, on Friday night. He was43 and is survived by his widow and three sons".

 

I think that Kathy and Charlie would also have been very saddened to hear that this man who wrote so sympathetically about them would be dead at such a young age less than a year later.

Update June 2012




Dorothy O'Grady now has her own page on this website; as I've written a short e-book about her, as well as an article that was published in the June edition of "Britain at War" magazine. To find out about these go to Dorothy's page on this site.




Alternatively you can go direct to the Amazon UK Kindle site to purchase the e-book for £1.99


 

0

/