Shopping Cart
Your Cart is Empty
There was an error with PayPal
Click here to try again
Thank you for your business!
You should be receiving an order confirmation from Paypal shortly.
Exit Shopping Cart
The story of Charlie and Kathy Bradford​
Reflections on being an undergraduat​e in my seventies

In July, just one month before my seventy-third birthday, I heard that I'd been awarded my BA in History from Birkbeck, University of London. A 'second-class upper division' (or 2.1) to be precise. So, my student career is over. I can honestly say that I've thoroughly enjoyed the experience and met many really interesting people of all ages who have come from many countries to teach or learn in London. How lucky we are to live so close to such a dynamic, cosmopolitan city.
Of course, the whole learning process was disrupted by Covid. In March 2020, towards the end of my second year, teaching moved online, and stayed that way until the end of my third and final year. I know that the teaching staff moved heaven and earth to make the process of mass online learning as fruitful as they could, but it's just not the same from the student perspective. Online learning is a solitary experience. The main thing that you miss is chatting with fellow students before and after the lecture. From the teachers' perspective, it must be even more frustrating as the teacher has so few body language clues about how his or her message is getting across. In theory, this year's graduates should be attending a graduation ceremony in November, but we don't know whether that too will be forced online. I will be really disappointed if it is.
In the first year of the course, students choose to study history by period, and there are nine periods to choose from, from classical times to the twentieth century, I chose to study three periods of world history covering from 1500 to the present day. My main interest is twentieth-century history, but I also thoroughly enjoyed learning about the early modern world (from 1500 to 1789), which is of course the period when Europeans first encountered other civilisations. Spaghetti Bolognese is a quintessentially European staple, but what would it taste like without pasta - from China - or tomatoes and chilli peppers - from the Americas - or basil - from Africa? What would be left on the plate?
In return for the indigenous Americans introducing us Europeans to tomatoes, peppers, potatoes, maize, and a whole host of other food staples, we gave them horses, which they found quite useful; but we also introduced them to measles and influenza, which may have killed more than forty million of them. If that wasn't enough, we then sent thirteen million Africans to the Americas to be enslaved, but several million of them never arrived on American shores, because the journey was so dangerous. So much modern history is about slavery and genocide that it was a great relief to choose, as one of my second-year modules, a course called 'Being Good in the Modern Age' which is history of altruism and morality. This course began by examining why the Enlightenment philosophers considered kindness and politeness to be important, and went on to cover, inter-alia, the campaign to abolish slavery, the campaigns of the nineteenth century feminists, and, from the twentieth century, the disability rights movement, environmentalism, and the United Nations Universal Declaration of Human Rights. I think that if I had to choose the course that I enjoyed the most, it would be this one.
In the third and final year I wrote my dissertation. Those of you that are already familiar with my blog will know that one of my interests is disability rights, and that I have written the life stories of my parents, both of whom were disabled by polio as young children. So, you won't be surprised at my choice of research project, which was a study of the foundation of the British Polio Fellowship in 1939 and its work between 1939 and 1970. This charity was a self-help movement which in many ways was years ahead of its time; as most charities with this kind of ethos did not emerge until the 1960s. Writing a dissertation during various stages of lockdown is not to be recommended; the library that holds most of the relevant material for a dissertation about polio is the Wellcome Library in Central London, but at no point when I was working on this project was this library open to new readers. Other students will have had similar problems, so I guess we're all in the same boat. Anyway, these are trivial problems compared to what many other people have had to endure during the pandemic. At least it was my final year of university that was disrupted. I feel a lot of sympathy for those eighteen-year-olds who had to endure the stress of the 2020 A-level examinations fiasco, and then go into a university hall of residence to be solely taught online. They deserved better, and it's not the fault of the colleges that things weren't better for them.
The question that I'm asked most often is what next? Am I interested in a master's degree? I have to say that the answer is no. There is no government funding for the over -sixties to go further, and while there are scholarships, I think that there are many younger people who deserve them more than I do. I will carry on writing and start to update my seriously unloved and dated blog more often, starting now. But would I recommend going to Uni to other seventy-somethings. You bet I would!
Last month I attended the excellent Greenacre Writers Literary Festival in Finchley for the second year. Last year I was one of the speakers, this year I was a member of the audience, but I feel "one of the family". At the end of the day a few of us who are associated with Greenacre Writers agreed to post a few good reading suggestions on our blogs. My suggestions follow, some other Greenacre Writers people have also made recommendations.
You can find Wendy Shillam's suggestions on her blog here:
My selection is a list of fiction or non-fiction books that I've either read in the past eighteen months, or intend to read before the end of summer. I try to make sure that my book-pile consists of fiction and non-fiction, and includes a variety of points of view; so I try to include authors from many countries.
1. Walking Home, by Simon Armitage
Next month I'll be walking a part of the Pennine Way - my intention is to complete it in short sections before I'm seventy, so I've got five years to go. I started last year and did about forty miles. So I'll begin my reading suggestions with "Walking Home" by poet Simon Armitage, which I read a month or so ago: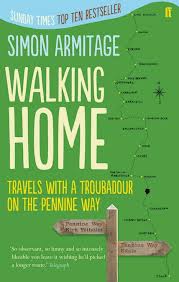 Armitage lives at the Southern End of the Pennine Way and in 2010 he decided to walk the length of the footpath North to South (the opposite direction to most walkers) carrying no money, and finance his walk by giving poetry readings in all sorts of venues - pubs, public halls, cafes and private houses. At the end of each reading he passed a walking sock round for donations to raise money for food. A quirky book, it's a must for anybody who loves the rugged Pennine countryside and enjoys reading events.
2. The Dark Road by Ma Jian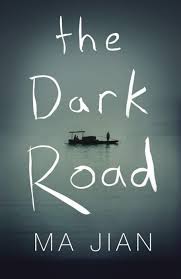 Since I went to China for the first time three years ago I've been fascinated and concerned by China's "one-child policy". Two months ago I read a review of "The Dark Road" in The Guardian and felt compelled to download the book to my Kindle so that I could read it there and then.
The Dark Road is a very bleak, profound and disturbing fictional polemic against the one-child policy and a repressive, brutal and corrupt bureaucracy. Ma Jian is a London-based Chinese dissident and writer who spent several months posing as a vagrant and a journalist researching what happens to Chinese peasants who "go on the run" to avoid the attention of the Fertility Police.
Meili, a simple peasant girl married Kongzi, a village school teacher when she was just sixteen. they have a daughter, Nanaan, who is two years old at the beginning of the story. It's very important to Kongzi to have a male heir. He's determined to impregnate Meili enough times to make this happen, despite any objections she may have, and (more significantly as far as the plot is concerned) despite the attentions of the Fertility Police.
Near the beginning of the book, Kongzi remarks "If a panda gets pregnant the whole nation celebrates, but if woman gets pregnant she's treated like a criminal." Nearer to the end, Meili observes "Men control our vaginas; the state controls our wombs." This book contains graohic descriptions of cruelty -it is certainly not for the faint-hearted.
I've written a previous blog post about China's one child policy, which incorporates a longer review of the Dark Road. You can read it here
3. And the Mountains Echoed by Khaled Hosseini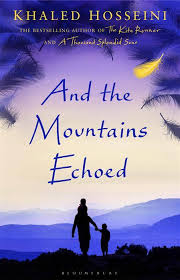 I've just been given this for Father's Day so I haven't read it yet. Khaled Hosseini's earlier novels "The Kite Runner" and "A Thousand Splendid Suns" gave the children and women of rural Afghanistan a voice that is seldom heard in the west, or indeed in Afghanistan itself, so I'm looking forward to reading this much longer family saga that traces an Afghani family over fifty years and across three continents.
4. NW by Zadie Smith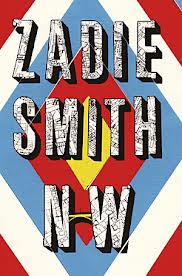 I thought that Zadie Smith's first novel "White Teeth" was a celebration of the London that I love; and it made me laugh as well as moving me. I wasn't quite as impressed by her next two novels, but in "NW" she returns to the London where she grew up. The novel follows four Londoners - Leah, Natalie, Felix and Nathan - after they've left their childhood council estate, grown up and moved on to different lives. After a chance encounter they each find that the choices they've made, the people they once were and are now, can suddenly, rapidly unravel.
5. A Delicate Truth by John le Carre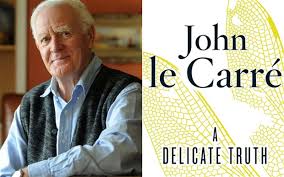 I've been reading le Carre since the 1970s - I've just checked that there are twenty le Carre novels in my bookcase. He's simply the master of moral ambiguity and the architect of the complex plot that grips the reader.
A counter-terror operation, codenamed Wildlife, is being mounted in Gibraltar. Its purpose is to abduct a jihadist arms-buyer. The operation is so sensitive that even the Minister's Private Secretary, Toby Bell, is not cleared for it.
Suspecting a disastrous conspiracy, Toby attempts to forestall it, but is promptly posted overseas. Three years on, Toby is questioned by Sir Christopher Probyn, retired British diplomat, in his decaying Cornish manor house. Toby must now choose between his conscience and his duty to the Service.
6. Breath in the Dark by Jane Hersey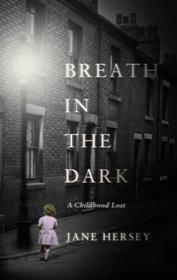 Jane Hersey is a friend of mine who I met through an online writing peer review website. Jane lives in Blackpool, is married with a grown-up son and enjoys music and gardening. Nothing remarkable about that until you read her moving and disturbing childhood autobiography "Breath in the Dark" and wonder how she survived into adulthood at all.
Jane was born into the ultra-orthodox Jewish community of Cheetham Hill in Manchester in 1953. She was the middle child. Shortly after the birth of her younger brother her father abandoned the family, leaving the children in the care of their mother Annie.
 Annie simply couldn't cope. She suffered from depression, asthma, diabetes and a compulsive eating disorder. She was addicted to prescription drugs and spent most of her life asleep on the sofa. The family survived on National Assistance payments and handouts from Jewish welfare agencies. When Jane was just six years old Annie depended on her daughter to cash the National Assistance money, blag the doctor or the chemist to give her more amphetamines and to sell the second hand clothes that the community provided for her children in order that she could afford to binge eat.
Jane's childhood was non-existent. All her waking hours were devoted to her mother's and her brothers' needs. She was socially isolated, physically and emotionally neglected, and sexually abused by her father on the few occasions when she came into contact with him.
Jane tells her story through the unmoderated voice of her childhood self. The voice is intense, innocent and powerful. The book begins when she is six and ends abruptly when she is fifteen and breaks away from the community that had failed her so miserably.
Jane has now written "Full Circle"; a sequel to "Breath in the Dark" which I reviewed here. She plans to publish the third volume of her life story next year.
*****
7. Looking for Transwonderland by Noo Sara-Wiwa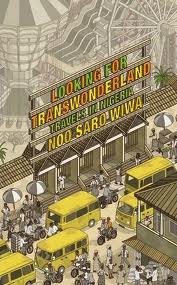 Noo Sara-Wiwa is a travel guide writer. Born in Nigeria and educated in England; she's also the daughter of Ken Sara-Wiwa, a human rights activist who was executed by the Nigerian government in 1995, on charges widely viewed as entirely politically motivated and completely unfounded.
So though she's written several Lonely Planet Guides to African countries, she's never wanted to write a tourist guide to the country that killed her father.
Instead, she writes "Looking for Transwonderland"; a very moving but humorous personal journey back to the land of her birth. Her compassion and keen eye for the ridiculous shine through the book.
8. A Sunday at the Pool in Kigali by Gil Courtemanche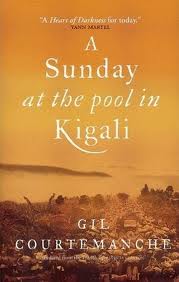 A Sunday at the Pool in Kigali is a moving, passionate love story set amid the turmoil and terror of Rwanda's genocide in 1994.




All manner of Kigali residents pass their time by the pool of the Mille-Collines hotel: aid workers, Rwandan bourgeoisie, expatriates, UN peacekeepers, prostitutes. Keeping a watchful eye is the narrator, a cynical middle aged French-Canadian journalist Bernard Valcourt. As Valcourt slips into an intense, improbable affair with Gentille, a young hotel waitress with the slender, elegant build of a Tutsi, the delicately balanced world around them - already devastated by AIDS - erupts in a Hutu-led genocide against the Tutsi people.




Valcourt's efforts to get Gentille to a place of safety end in their separation. It will be months before he learns of his lover's shocking fate. Like "The Dark Road" this book is not for the faint hearted - it's incredibly graphic and the imagery is some of the most disturbing that I have ever read, but it's humanity shines through.




Good reading everyone!

0

/