Shopping Cart
Your Cart is Empty
There was an error with PayPal
Click here to try again
Thank you for your business!
You should be receiving an order confirmation from Paypal shortly.
Exit Shopping Cart
The story of Charlie and Kathy Bradford​
Reflections on being an undergraduat​e in my seventies

In July, just one month before my seventy-third birthday, I heard that I'd been awarded my BA in History from Birkbeck, University of London. A 'second-class upper division' (or 2.1) to be precise. So, my student career is over. I can honestly say that I've thoroughly enjoyed the experience and met many really interesting people of all ages who have come from many countries to teach or learn in London. How lucky we are to live so close to such a dynamic, cosmopolitan city.
Of course, the whole learning process was disrupted by Covid. In March 2020, towards the end of my second year, teaching moved online, and stayed that way until the end of my third and final year. I know that the teaching staff moved heaven and earth to make the process of mass online learning as fruitful as they could, but it's just not the same from the student perspective. Online learning is a solitary experience. The main thing that you miss is chatting with fellow students before and after the lecture. From the teachers' perspective, it must be even more frustrating as the teacher has so few body language clues about how his or her message is getting across. In theory, this year's graduates should be attending a graduation ceremony in November, but we don't know whether that too will be forced online. I will be really disappointed if it is.
In the first year of the course, students choose to study history by period, and there are nine periods to choose from, from classical times to the twentieth century, I chose to study three periods of world history covering from 1500 to the present day. My main interest is twentieth-century history, but I also thoroughly enjoyed learning about the early modern world (from 1500 to 1789), which is of course the period when Europeans first encountered other civilisations. Spaghetti Bolognese is a quintessentially European staple, but what would it taste like without pasta - from China - or tomatoes and chilli peppers - from the Americas - or basil - from Africa? What would be left on the plate?
In return for the indigenous Americans introducing us Europeans to tomatoes, peppers, potatoes, maize, and a whole host of other food staples, we gave them horses, which they found quite useful; but we also introduced them to measles and influenza, which may have killed more than forty million of them. If that wasn't enough, we then sent thirteen million Africans to the Americas to be enslaved, but several million of them never arrived on American shores, because the journey was so dangerous. So much modern history is about slavery and genocide that it was a great relief to choose, as one of my second-year modules, a course called 'Being Good in the Modern Age' which is history of altruism and morality. This course began by examining why the Enlightenment philosophers considered kindness and politeness to be important, and went on to cover, inter-alia, the campaign to abolish slavery, the campaigns of the nineteenth century feminists, and, from the twentieth century, the disability rights movement, environmentalism, and the United Nations Universal Declaration of Human Rights. I think that if I had to choose the course that I enjoyed the most, it would be this one.
In the third and final year I wrote my dissertation. Those of you that are already familiar with my blog will know that one of my interests is disability rights, and that I have written the life stories of my parents, both of whom were disabled by polio as young children. So, you won't be surprised at my choice of research project, which was a study of the foundation of the British Polio Fellowship in 1939 and its work between 1939 and 1970. This charity was a self-help movement which in many ways was years ahead of its time; as most charities with this kind of ethos did not emerge until the 1960s. Writing a dissertation during various stages of lockdown is not to be recommended; the library that holds most of the relevant material for a dissertation about polio is the Wellcome Library in Central London, but at no point when I was working on this project was this library open to new readers. Other students will have had similar problems, so I guess we're all in the same boat. Anyway, these are trivial problems compared to what many other people have had to endure during the pandemic. At least it was my final year of university that was disrupted. I feel a lot of sympathy for those eighteen-year-olds who had to endure the stress of the 2020 A-level examinations fiasco, and then go into a university hall of residence to be solely taught online. They deserved better, and it's not the fault of the colleges that things weren't better for them.
The question that I'm asked most often is what next? Am I interested in a master's degree? I have to say that the answer is no. There is no government funding for the over -sixties to go further, and while there are scholarships, I think that there are many younger people who deserve them more than I do. I will carry on writing and start to update my seriously unloved and dated blog more often, starting now. But would I recommend going to Uni to other seventy-somethings. You bet I would!
Last month, my friend Steve and I walked forty four miles of the Pennine Way, from Bellingham, Northumberland to Kirk Yetholm in the Scottish Borders. The Pennine Way ends at the Border Hotel, Kirk Yetholm, but Steve and I have only walked just over half of the almost 300 mile route. We started five years ago and only spend about three days a year walking this beautiful but arduous national trail. We hope to finish before another five years is out.
We decided to walk Sunday, Tuesday and Thursday, and on our first day we set out from near the village of Bellingham (which is apparently pronounced Belling-jam) at about 10.30. Our plan was to walk just over eleven relatively flat - by Pennine Way standards - miles to the hamlet of Byrness that day. It was a warm but windy summer's day with alternate blue skies and grey clouds, and there was no rain. It was ideal weather for hill-walking.
You rarely meet anyone at all on the Pennine Way - on many of our walks we haven't seen a soul all day - and if you do meet other walkers the conversations are usually brief. It was almost lunchtime when we spotted another walker. We were walking a level, single file track that was to end soon. Just in front of us was a steep ascent, the steepest we would encounter that day. An elderly gentlemen, short and relatively round for a hill walker was struggling to get up after resting because he was burdened by a very large rucksack. Steve, who was ahead of me on the single track path, went to his aid and steadied his burden while the stranger pushed himself up using his walking poles.
I'm sixty seven and Steve is sixty nine, so I'm well aware that many people might describe us as "elderly gentlemen"; but Julian was the kind of elderly gentleman that even people who are themselves sometimes referred to as elderly gentlemen would describe as an elderly gentleman. His face was deeply tanned, he had a few days of stubble and spoke in a cut glass accent that implied that he was educated at one of England's more well-known public schools. I thought that he must be in his mid seventies.
Julian told us that he had started out from Edale - the Southern End of the trail - about twenty days ago; he'd lost count of the actual number of days. He just pitched his tent wherever he could find somewhere. He didn't like B&Bs because they were often off the trail, and you couldn't get started before 9.30. As we were in the week of the summer solstice, he liked to get going before 6am, which is the time that he had left Bellingham this morning. This is how slow his progress was - we started at much the same place four and a half hours later and we were about to overtake him.
I said that keen as we were on hill walking, the thought of travelling with our own tent and not sleeping in a bed for day after day was beyond our capabilities, and Julian said that he did miss not being able to shower; and that he had to carry his own food and cooking gear . For several days breakfast had been oatmeal porridge, and lunch was always a snickers bar. If he was lucky, he was able to pitch his tent near a pub, and that's where, some days, he got an evening meal. But now he only had about three days walking to do to finish the trail. Today, his destination, like ours, was Byrness.
Hill walking is gruelling. The idea of doing that, day after day, on so few calories beggars belief. My own preferred lunch when long-distance walking is a pork pie, a cheese roll, several tomatoes, an apple and a cereal bar. How can anybody do this on just a Snickers for heaven's sake?
We then wished each other luck, Steve and I pushed ahead, and as we were walking far faster than Julian, and we didn't expect to see him again as he was walking every day and we were only on the hills every other day. But you never know.
North of Byrness you find some of the most physically taxing parts of the Pennine Way. On Tuesday it took us fifty eight minutes to cover the first mile, so steep was the ascent; and over eight hours to cover the whole sixteen miles. On Thursday, our final day, you reach a height of 815 metres at the summit of The Cheviot, and strenuous activity at that height leaves you seriously short of breath.
It was the middle of a glorious sunny afternoon with minimal wind on our final day's walk from Cocklawfoot (which is possibly a place name but more likely a Scottish expression meaning the middle of nowhere) to Kirk Yetholm when we saw a figure in the distance coming towards us whose distinctive gait and slow pace identified him as Julian, even from a few hundred metres away. He was walking towards the start of the Pennine Way! Surely not! We hadn't thought that very likely.
Julian told us that since we last met four days ago he had spent two days nights on his own in Mountain Refuge Huts - emergency shelters provided by the National Park - one night at a campsite where they provided showers, laundry facilities and breakfast for less than twenty pounds, and for his final night he'd pitched his tent in the churchyard at Kirk Yetholm. He recommended churchyards because they were free, picturesque, nobody bothered you, and often close to a pub or a shop.
Steve's voice must have sounded incredulous when he asked him whether he was walking all the way back to Edale. "Oh No," replied Julian. "Just as far as Alston for a family reunion, then it's the London train. This is far too punishing, much harder than the Appalachian Trail".
Alston is 102 miles from Kirk Yetholm, at least six days walking the way Steve and I do it. Probably six days for Julian as well. it's just that his daily walk takes him about twice as long. And It turns out that Julian has walked over five hundred miles of the most famous trail in America. I've walked one mile, from a car park to a viewpoint in Tennessee. That's probably all I'll ever do.
We said our farewells. On the bar at the Border Hotel in Kirk Yetholm there is a Pennine Way visitor book, where people who've completed some or all of the trail sign their names and write a paragraph or two about their experience. I found Julian's entry. It was written in the most immaculate italic hand. Part of it was in Latin, which I don't read. He'd signed his full name, and his distinctive surname will be known to anybody who has studied British history. I Googled him. He's eighty, educated at Stowe and if his nephew dies before him he'll inherit the baronetcy.
You rarely meet anyone on the Pennine Way. It's usually a solitary pursuit.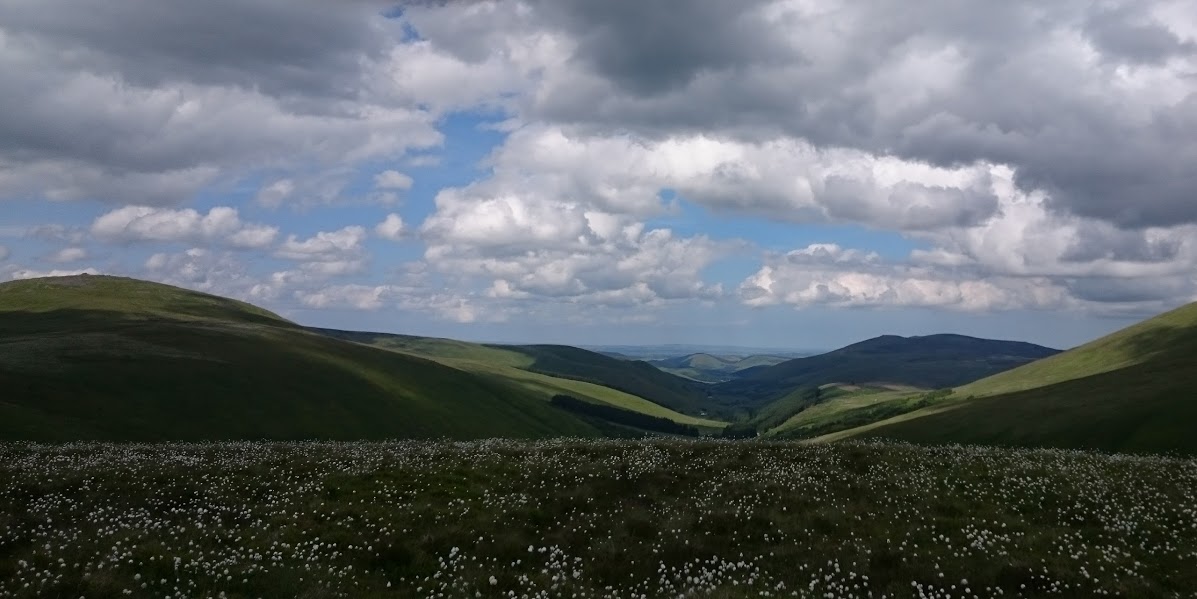 The view from the Mountain Refuge Hut at Schil, where Julian spent a night.

 

0

/