Shopping Cart
Your Cart is Empty
There was an error with PayPal
Click here to try again
Thank you for your business!
You should be receiving an order confirmation from Paypal shortly.
Exit Shopping Cart
The story of Charlie and Kathy Bradford​
Reflections on being an undergraduat​e in my seventies

In July, just one month before my seventy-third birthday, I heard that I'd been awarded my BA in History from Birkbeck, University of London. A 'second-class upper division' (or 2.1) to be precise. So, my student career is over. I can honestly say that I've thoroughly enjoyed the experience and met many really interesting people of all ages who have come from many countries to teach or learn in London. How lucky we are to live so close to such a dynamic, cosmopolitan city.
Of course, the whole learning process was disrupted by Covid. In March 2020, towards the end of my second year, teaching moved online, and stayed that way until the end of my third and final year. I know that the teaching staff moved heaven and earth to make the process of mass online learning as fruitful as they could, but it's just not the same from the student perspective. Online learning is a solitary experience. The main thing that you miss is chatting with fellow students before and after the lecture. From the teachers' perspective, it must be even more frustrating as the teacher has so few body language clues about how his or her message is getting across. In theory, this year's graduates should be attending a graduation ceremony in November, but we don't know whether that too will be forced online. I will be really disappointed if it is.
In the first year of the course, students choose to study history by period, and there are nine periods to choose from, from classical times to the twentieth century, I chose to study three periods of world history covering from 1500 to the present day. My main interest is twentieth-century history, but I also thoroughly enjoyed learning about the early modern world (from 1500 to 1789), which is of course the period when Europeans first encountered other civilisations. Spaghetti Bolognese is a quintessentially European staple, but what would it taste like without pasta - from China - or tomatoes and chilli peppers - from the Americas - or basil - from Africa? What would be left on the plate?
In return for the indigenous Americans introducing us Europeans to tomatoes, peppers, potatoes, maize, and a whole host of other food staples, we gave them horses, which they found quite useful; but we also introduced them to measles and influenza, which may have killed more than forty million of them. If that wasn't enough, we then sent thirteen million Africans to the Americas to be enslaved, but several million of them never arrived on American shores, because the journey was so dangerous. So much modern history is about slavery and genocide that it was a great relief to choose, as one of my second-year modules, a course called 'Being Good in the Modern Age' which is history of altruism and morality. This course began by examining why the Enlightenment philosophers considered kindness and politeness to be important, and went on to cover, inter-alia, the campaign to abolish slavery, the campaigns of the nineteenth century feminists, and, from the twentieth century, the disability rights movement, environmentalism, and the United Nations Universal Declaration of Human Rights. I think that if I had to choose the course that I enjoyed the most, it would be this one.
In the third and final year I wrote my dissertation. Those of you that are already familiar with my blog will know that one of my interests is disability rights, and that I have written the life stories of my parents, both of whom were disabled by polio as young children. So, you won't be surprised at my choice of research project, which was a study of the foundation of the British Polio Fellowship in 1939 and its work between 1939 and 1970. This charity was a self-help movement which in many ways was years ahead of its time; as most charities with this kind of ethos did not emerge until the 1960s. Writing a dissertation during various stages of lockdown is not to be recommended; the library that holds most of the relevant material for a dissertation about polio is the Wellcome Library in Central London, but at no point when I was working on this project was this library open to new readers. Other students will have had similar problems, so I guess we're all in the same boat. Anyway, these are trivial problems compared to what many other people have had to endure during the pandemic. At least it was my final year of university that was disrupted. I feel a lot of sympathy for those eighteen-year-olds who had to endure the stress of the 2020 A-level examinations fiasco, and then go into a university hall of residence to be solely taught online. They deserved better, and it's not the fault of the colleges that things weren't better for them.
The question that I'm asked most often is what next? Am I interested in a master's degree? I have to say that the answer is no. There is no government funding for the over -sixties to go further, and while there are scholarships, I think that there are many younger people who deserve them more than I do. I will carry on writing and start to update my seriously unloved and dated blog more often, starting now. But would I recommend going to Uni to other seventy-somethings. You bet I would!
The first thing that Elliott Roosevelt did when he arrived at the Democratic Party's convention in Chicago in 1932 was to make sure that the curtains were fully drawn across the front of the stage. He had to ensure that the audience of thousands were not in a position to sneak a view of what he had to do in thirty minutes time.
Satisfied that his actions would not be visible, the twenty-two year old son of the former governor of New York then introduced himself to the sound engineer and made sure that the recording would be played as soon as the curtains opened, and hurried back to the stage door where his father was waiting in the car. He lifted his father's wheelchair out of the trunk, pushed it to the front passenger door and opened it.
"You ready Dad?" he asked. Franklin D Roosevelt nodded his approval.
By this time Franklin already knew that he had the won the nomination to be the party's presidential candidate by a landslide, but this was to be the first time that the successful candidate had appeared at the convention to accept the nomination in person. The Roosevelt family had flown to Chicago from Buffalo that morning in a cramped Ford Trimotor plane. Passenger air transport was in its infancy, and the journey through thunderstorms had been arduous. Several members of the family were sick, but their father seemed to relish this new experience. Elliott and his brothers had had great difficulty in carrying their six foot three inch father to his seat, and it was even more difficult to get him off the plane without revealing the full extent of his disability to the waiting press. Elliott and his father were relieved that there were no newsreel cameras at the airport.
As Franklin reached for the top of the car door for support, Elliot reached into the bottom of the footwell and grabbed his father's surgical boots to swing him through ninety degrees so that he was facing him. He then felt for the locking mechanisms on both his father's leg irons, straightened his legs and lifted him out of the car into an upright position. His brother James then brought the wheelchair nearer and Elliott swung his father through one hundred and eighty degrees so that he was in contact with the wheelchair. As Elliott found the locking mechanism on his father's leg irons to put him in a sitting position, James lifted him by the armpits to make sure he was correctly seated.
Elliott began to push his father toward the stage door when his father cried out "My cane, Son". They had forgotten that soon to be president's walking cane was still in the trunk.
Once Franklin and his cane were reunited, Elliott continued the journey. It was still difficult; the corridors were narrow and there were six steps up to the rear of the stage. Elliott, James and a couple of stagehands had to the nominee in his wheelchair onto the stage.
Today would be the first day of a frenetic campaign in which Franklin would visit over twenty states, travelling by car, plane and train. At each stop his sons would have to manhandle him in the same way that they were doing today, and each time they did so aides would be deployed to make sure that no press photographers were around to see the full extent of the candidate's physical impairment. In the FDR presidential library at Hyde Park, New York there are over 35,000 photos of Franklin D Roosevelt. Only one of them shows him in his wheelchair. He was concerned that if the full extent of his disability became public knowledge, he would be unelectable. Before 1932 presidential candidates did not campaign on the road, they stayed at home and wrote articles for newspapers. FDR would change campaigning for ever because he wanted to be seen as a man of action. Firstly he needed to convince the American public that despite surviving Polio eleven years earlier he was physically capable of doing the job, but secondly he just loved campaigning.
When they reached the podium James straightened his father's legs and lifted him out of his wheelchair into an upright position. FDR grabbed the podium to support himself and the wheelchair was taken out of sight. Elliott signalled to the stage manager, and the as the curtains opened the recording of "Happy Days Are Here Again" began to play to the audience, but was drowned out by applause.
FDR lifted one arm from the podium to quell the cheers and began his speech with the words "Let us now and here resolve to resume the country's interrupted march along the path of real progress, of real justice, of real equality for all of our citizens, great and small."
The new deal had begun. A few months later FDR won the presidency by a landslide.
After the convention was over the Roosevelt family went to their hotel. In the hotel bedroom it was Elliott and James who helped their father undress, taking the leg irons off one by one, standing them in the corner and lifting their father onto the bed.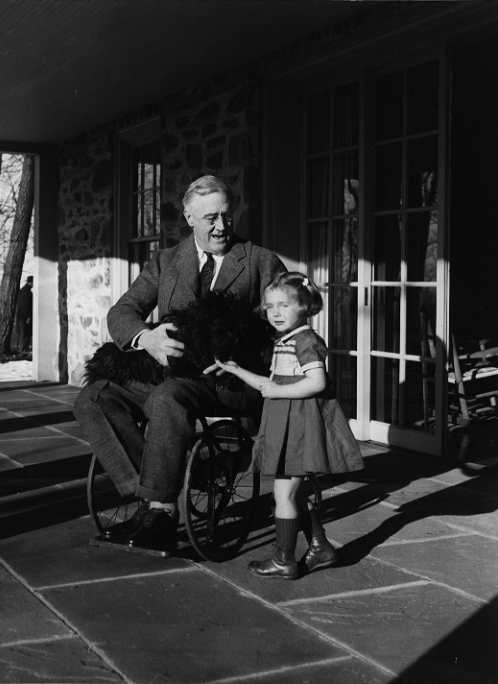 This photograph is reproduced by courtesy of the Franklin D Roosevelt Memorial Library and Museum, Hyde Park, New York

 

0

/