Shopping Cart
Your Cart is Empty
There was an error with PayPal
Click here to try again
Thank you for your business!
You should be receiving an order confirmation from Paypal shortly.
Exit Shopping Cart
The story of Charlie and Kathy Bradford​
Reflections on being an undergraduat​e in my seventies

In July, just one month before my seventy-third birthday, I heard that I'd been awarded my BA in History from Birkbeck, University of London. A 'second-class upper division' (or 2.1) to be precise. So, my student career is over. I can honestly say that I've thoroughly enjoyed the experience and met many really interesting people of all ages who have come from many countries to teach or learn in London. How lucky we are to live so close to such a dynamic, cosmopolitan city.
Of course, the whole learning process was disrupted by Covid. In March 2020, towards the end of my second year, teaching moved online, and stayed that way until the end of my third and final year. I know that the teaching staff moved heaven and earth to make the process of mass online learning as fruitful as they could, but it's just not the same from the student perspective. Online learning is a solitary experience. The main thing that you miss is chatting with fellow students before and after the lecture. From the teachers' perspective, it must be even more frustrating as the teacher has so few body language clues about how his or her message is getting across. In theory, this year's graduates should be attending a graduation ceremony in November, but we don't know whether that too will be forced online. I will be really disappointed if it is.
In the first year of the course, students choose to study history by period, and there are nine periods to choose from, from classical times to the twentieth century, I chose to study three periods of world history covering from 1500 to the present day. My main interest is twentieth-century history, but I also thoroughly enjoyed learning about the early modern world (from 1500 to 1789), which is of course the period when Europeans first encountered other civilisations. Spaghetti Bolognese is a quintessentially European staple, but what would it taste like without pasta - from China - or tomatoes and chilli peppers - from the Americas - or basil - from Africa? What would be left on the plate?
In return for the indigenous Americans introducing us Europeans to tomatoes, peppers, potatoes, maize, and a whole host of other food staples, we gave them horses, which they found quite useful; but we also introduced them to measles and influenza, which may have killed more than forty million of them. If that wasn't enough, we then sent thirteen million Africans to the Americas to be enslaved, but several million of them never arrived on American shores, because the journey was so dangerous. So much modern history is about slavery and genocide that it was a great relief to choose, as one of my second-year modules, a course called 'Being Good in the Modern Age' which is history of altruism and morality. This course began by examining why the Enlightenment philosophers considered kindness and politeness to be important, and went on to cover, inter-alia, the campaign to abolish slavery, the campaigns of the nineteenth century feminists, and, from the twentieth century, the disability rights movement, environmentalism, and the United Nations Universal Declaration of Human Rights. I think that if I had to choose the course that I enjoyed the most, it would be this one.
In the third and final year I wrote my dissertation. Those of you that are already familiar with my blog will know that one of my interests is disability rights, and that I have written the life stories of my parents, both of whom were disabled by polio as young children. So, you won't be surprised at my choice of research project, which was a study of the foundation of the British Polio Fellowship in 1939 and its work between 1939 and 1970. This charity was a self-help movement which in many ways was years ahead of its time; as most charities with this kind of ethos did not emerge until the 1960s. Writing a dissertation during various stages of lockdown is not to be recommended; the library that holds most of the relevant material for a dissertation about polio is the Wellcome Library in Central London, but at no point when I was working on this project was this library open to new readers. Other students will have had similar problems, so I guess we're all in the same boat. Anyway, these are trivial problems compared to what many other people have had to endure during the pandemic. At least it was my final year of university that was disrupted. I feel a lot of sympathy for those eighteen-year-olds who had to endure the stress of the 2020 A-level examinations fiasco, and then go into a university hall of residence to be solely taught online. They deserved better, and it's not the fault of the colleges that things weren't better for them.
The question that I'm asked most often is what next? Am I interested in a master's degree? I have to say that the answer is no. There is no government funding for the over -sixties to go further, and while there are scholarships, I think that there are many younger people who deserve them more than I do. I will carry on writing and start to update my seriously unloved and dated blog more often, starting now. But would I recommend going to Uni to other seventy-somethings. You bet I would!
Two days in Cape Town
At the end of March Marilyn and I visited Cape Town. One Monday morning we took the ferry to Robben Island, the bleak outpost in the Indian Ocean where the Apartheid regime, like the British Empire and Dutch empires before it incarcerated its political prisoners.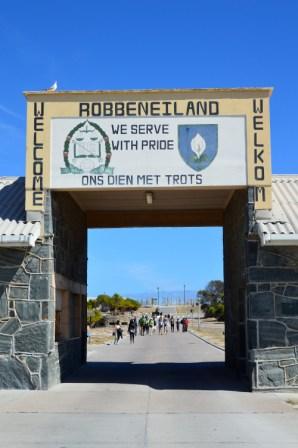 The Robben Island Prison Entrance
Each group of tourists is given a talk by a former prisoner. Given that the political prison closed over twenty five years ago, I was surprised how young our allocated prisoner seemed. In a bleak dormitory with grey walls, grey ceilings, barred windows and a grey floor covering, our prisoner told us that he arrived there as an eighteen year old in 1986. He had been sentenced to seven years for sabotage.
He never told us his name, but he did tell us that his offence had been to set fire to a rent office in a township one night. The people who lived in the Township were on rent strike. They had all been resettled there against their will when their former homes had been demolished to make way for white people, and they considered the rents changed by the regime to be excessive. By burning the rent office down, the regime would no longer have any records showing the rent arrears.
He talked about the Island's most famous prisoners - the "Rivonia Six" - Nelson Mandela, Walter Sisulu, Govan Mbeki, Elias Motsoaledi , Raymond Mhalaba and Ahmed Kathrada - who were convicted of treason in 1964, and, in Mandela's case, not released until 1990. Our prisoner said what an inspiration these men had been to him during the period he shared their place of internment.
Five of these six prisoners were classed by the regime as "Bantus", while Kathrada was classed as an "Asiatic". In the complex hierarchy of racial groups that was a cornerstone of Apartheid, Asiatics were considered to be superior to Bantus; which meant that only Kathrada was allowed to wear long trousers and eat meat, and he also had a larger bread ration than the others.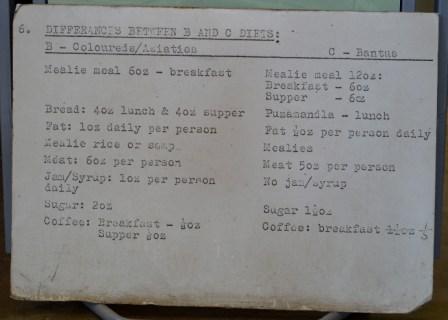 Poster at Robben Island showing the ration rules
The purpose of not allowing Bantus to wear long trousers was to infantilise them. If they were treated as children they wouldn't be a threat. And this absurdity is one of the reasons that the system collapsed. The founding fathers of the Apartheid regime could see no reason why they should educate the majority of the population to become anything than gardeners, labourers or maids, but a modern economy needs engineers, scientists and doctors. This contradiction was one of the reasons why the system collapsed in the 1990s. It was no longer sustainable.
That night, Ahmed Kathrada, who , like his friend Mandela, had spent eighteen years in custody, died aged eighty nine. His funeral was held the following day, and all the South African TV stations gave it blanket coverage. The country's controversial president, Jacob Zuma, another Robben Island alumnus, was told by Kathrada's family to stay away as he was not welcome.
On the day that Kathrada was buried, Marilyn and I went on a tour of the Cape Peninsula. We'd hired a taxi for a day, and Abdenir, our driver, stopped his immaculate Nissan saloon over twenty times to show us spectacular sights. We saw long sandy beaches with great white breakers, green mountains, rugged cliffs and wide blue skies. I remember one inspiring view of both the Atlantic and Indian Oceans as we headed back from the Cape of Good Hope. He stopped the car so that we could admire a herd of Ostriches walking along an Atlantic beach, the three of us laughed at three young German tourists who decided that the best way to avoid the attention of the baboons is to run away from them, and Marilyn and I walked the length of Boulders Beach, home to a large colony of Penguins.
Abdenir is both a good host and an interesting travelling companion. He is a refugee, a legal immigrant from Somalia. He is one of over a million South African residents who are refugees from war zones. His father was killed in the civil war, and he and his wife, who are bringing up four children of their own, have adopted another child, the daughter of friends who both lost their lives when the little girl was only eight months old . Some of the conversation between the three of us touched the subject of human rights. Abdenir is both an optimist and an Anglophile. He looks forward to the day when it will be safe for him to return to Somalia and thinks that many young people who have been part of refugee families in the United Kingdom, and have benefited from its education system will return and make great contributions to Somali civic society. He was full of praise for David Cameron and William Hague - who are hardly my political heroes - who he told us had given significant amounts of time, as well as funding, in an attempt to find a resolution to the conflict in his country.
We said goodbye to Abdenir almost eight hours after we had got into his car, went back to our hotel and turned the TV on. the local stations were still covering Ahmed Kathrada's funeral. We watched as former president Kgalema Motlanthe received a standing ovation and loud cheers as he read out parts of an open letter that Kathrada has sent to Jacob Zuma asking him to resign less than twelve months earlier.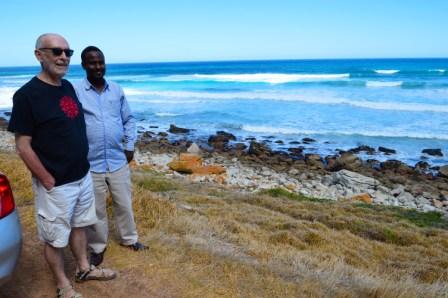 Abdenir and I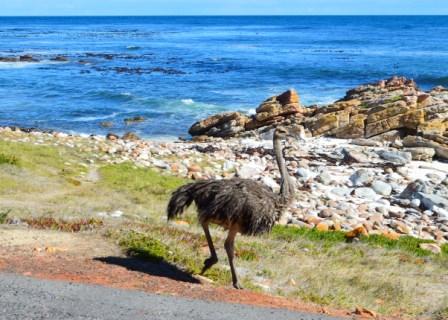 Ostrich on an Atlantic beach near Cape Point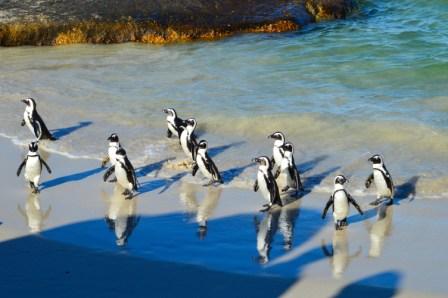 Boulders Beach, Cape Peninsula







0

/